---
Hello Lovelies! After years of looking at other bloggers/bookstagrammers unboxings, I finally decided to buy a book subscription box for myself. It took a few days to decide which one because there are SO MANY great companies out there, but I ultimately decided to go with
Fae Crate.
They are stationed in my country (the US), the High Ladies that run the box are incredibly nice, and the items in their boxes each month have always intrigued me.
I am SO glad that I decided to buy the box for May because, starting that month, each box will come with a special collector's coin that is based on a different fandom each month. Also, the items that came in the box blew me away and I could not stop screeching with joy!
Anyways, here is my unboxing of Fae Crate's May box!
---
May's Theme: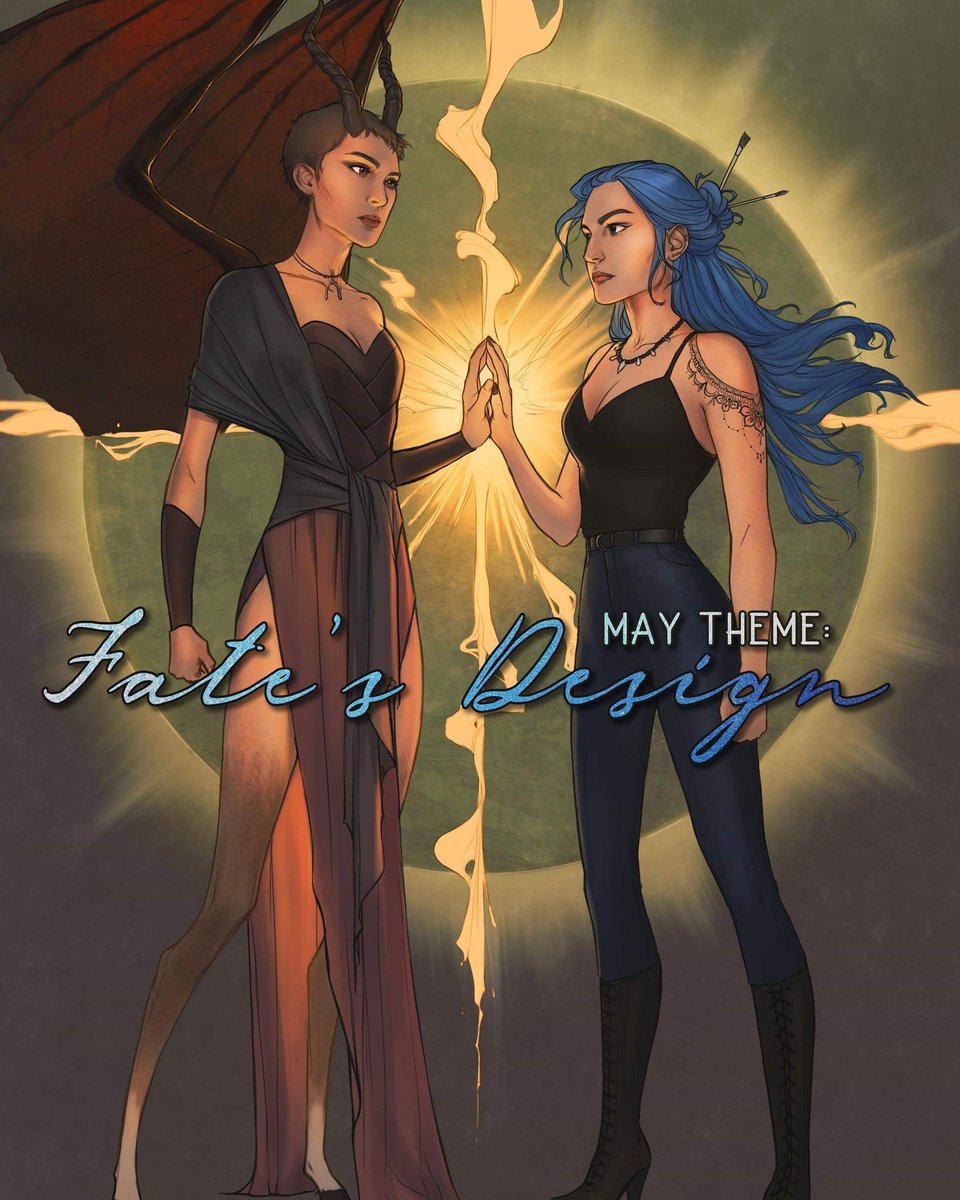 Let's start off with this month's theme which was Fate's Design! I loved this theme and I was SO excited when I learned that the art work was based off of the series,
Daughter of Smoke and Bone by Laini Taylor!
I might not have enjoyed this series as much as other people did, but I can't deny that the world and imagery that Laini Taylor created is anything other than pure magic. I loved the art work that
Gabriella Bujdoso
created for this month and I just can't stop staring!!! Madrigal and Karou look so beautiful!!!
---
The Box Itself:
I thought I'd start with pictures of the box itself for those that haven't seen it before. I must say, I love everything about this book and the way it looks. The color and logo fit the company perfectly, the *CAUTION: magic inside* lid is absolutely adorable, and the sides that have the company slogan which say "Let's live a thousand lives together" just warms my heart.
---
The Items in the Box:
DOSAB Book Slip ~
Based on the art work for this month's theme, this lovely book slip was included in the box. I've already talked about the art work so you know how much I love it, but the book slip itself I love as well. It is just so beautiful and silky feeling! I have never used a book slip before but I want to now!
Have you used one? Please let me know in the comments what you think of them and if they serve their purpose.
TBR Pen ~
I love this pen! It writes with the same color ink as the color of the box and the sayings on the sides fit me perfectly! The main writing on the pen says, "To read or not to read? That is the question." It then has many smaller texts that change with each time you click the pen. They say:
You'll need your hangover kit.

All pages point to yes!

It's going to be an all-nighter…

This one's going to hurt

#nextobsession

(Swipe Left)
Furyborn Enamel Necklace ~
I haven't read
Furyborn
yet and it has been on my TBR for a while now, but this necklace bumped it up to the top of my list! It's just so beautiful and fits the book's cover perfectly!
Magnus Von Magnus Incense Set ~
The inscription on the lid says, "Incense in the Fashionable Stylings of Magnus Von Magnus. The Harbinger of Debauchery". This incense set is dedicated to the magnificent Magnus Bane from the
Shadowhunter Chronicles!
How could I not love it?!?! And it truly smells magnificent! I can't get enough!
Shoppe of Fortunes Banner ~
This banner is by
Blissfully Bookish Tees
and I couldn't be more intrigued by it! I am and always will be a Harry Potter fan so any item like this is truly a treasure to me! I have a place on my wall picked out already for where this is gonna go when I finish moving.
---
Monthly Polaroid and Coin:
For those that don't know, each month Fae Crate has a monthly Polaroid picture that they include and (starting this month) a monthly coin. These are exclusive to each month and you cannot get them again. Fae Crate announces what the Polaroid is to look like and what fandom the coin is going to be from on their Instagram.
I highly encourage you to check them out so you can decide if you want a box before they sell out!

Wrath & the Dawn Polaroid
~

The art for this Polaroid is by lemoncielart. I haven't read this duology yet, but I am dying to now! This Polaroid is just so cute and I need to know these characters!!! (And after seeing Aladdin in the theaters, I'm really feeling this sort of book right now)
A Darker Shade of Magic Coin ~
The Fae Crate logo side of this coin fit the whole vibe of the company to a tee and the ADSOM side of the coin blew me away. I might not be the biggest fan of that trilogy, but the "I am not most girls" quote on the coin spoke to me so much!!
June and July's Polaroid and Coin have already been announced and they are:
June ~ Warcross Polaroid and The Raven Cycle Coin

July ~ Carry On Polaroid and The Young Elites Coin
---
The Monthly Ebook Download:
Each month not only does Fae Crate include a hardcover book, but they also include a code so you can download a free ebook! The ebook for this month was Imber (Thanatos Trilogy #1) by Tyffany Hackett.
I haven't read it yet, but I added it to my TBR because it sounds really interesting!
---
Book of the Month:
The Book of the Month was
Lovestruck by Kate Watson.
The hardcover included in the box for this month was a Fae Crate exclusive which means that you can't get it anywhere else! The cover on the left is the original and the cover on the right is the exclusive.
The book also came with a letter from the author and a signed book plate (which I have already added to inside the book).
---
Thank you for joining me today! I had so much fun opening this box and talking about all of the bookish items inside! I also love Fae Crate and all of the girls that work there. They went out of their way to make sure I got my box while I was moving and I will never forget it considering the month I've had. What about you? Do you subscribe to Fae Crate? Do you subscribe to any other monthly book boxes? What do you think of my unboxing and the items in this month's box? Please let me know!
~𝒜𝓊𝓉𝓊𝓂𝓃

💕