---
Hello Lovelies! I'm back with another unboxing of my favorite subscription box,

Fae Crate.

These boxes are the highlight of my month and I could not love the items more! I hope you enjoy this month's unboxing as much as I did! The items were really cute and some of them are up there when it comes to my favorites!
***There is also an option through Fae Crate to get a box with a shirt as well, but I typically opt-out of this option because of the cost. It is also more practical for me personally because I don't typically wear t-shirts.***
---
October's Theme: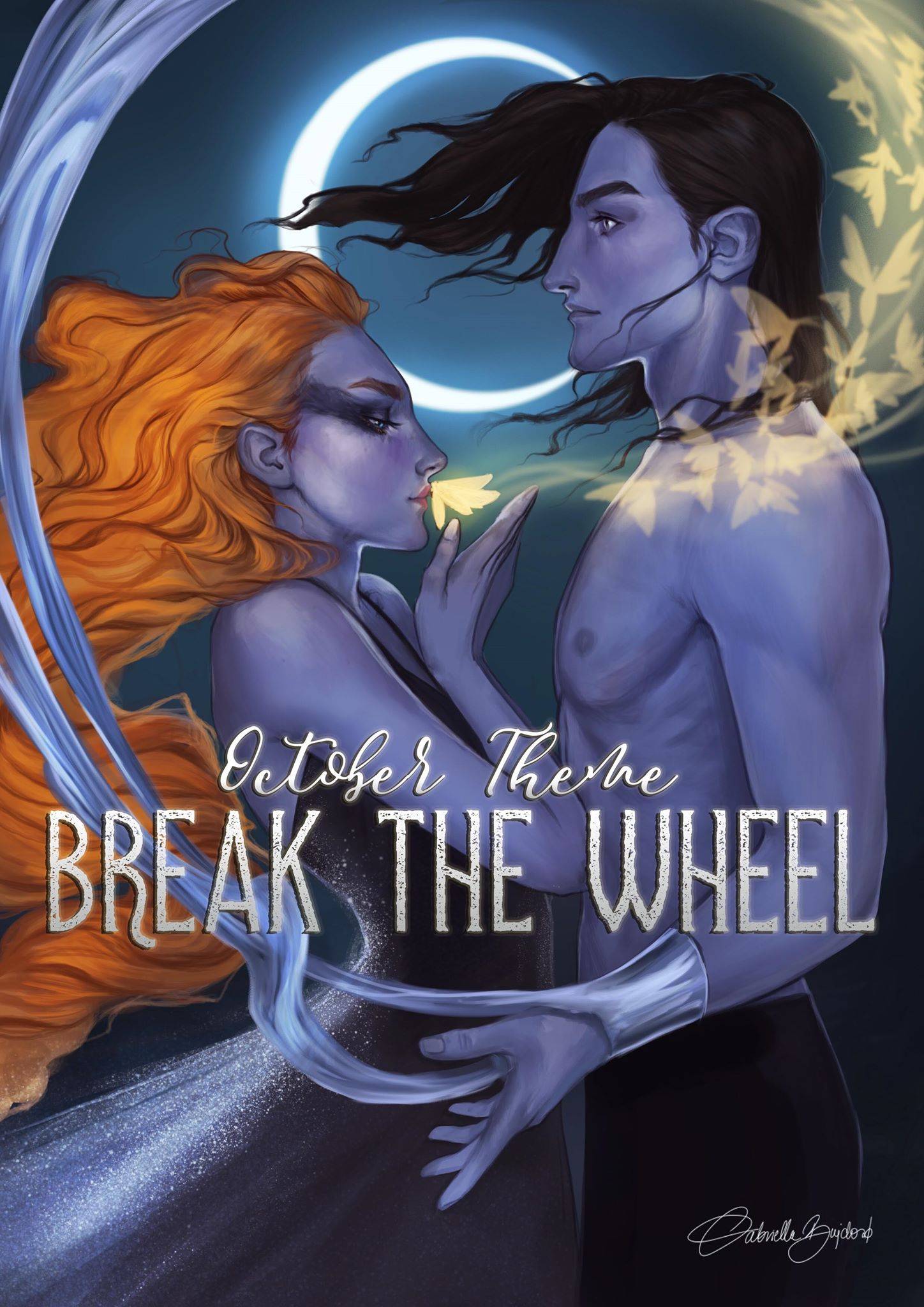 Let's start off with this month's theme which was Break the Wheel! As soon as I saw this theme, I knew this month's box was going to be great! Break the Wheel is one of my favorite plot points in books and, once I heard the fandoms for this month, there was no way I was not going to buy this box!
The art for this month was based on Sarai and Lazlo from Strange the Dreamer and I think that it was absolutely perfect for this theme! It got me SOOO hyped for this box!
---
The Box Itself:
For those that haven't seen my previous unboxings, this is what the box looks like. It's beautiful, isn't it?!
I just love everything about this book and the way it looks. The color and logo fit the company perfectly, the *CAUTION: magic inside* lid is absolutely adorable, and the sides that have the company slogan which says, "Let's live a thousand lives together" just warms my heart.
---
The Items in the Box:
Reign the Earth Patch ~
I have not read this series yet, but it is on my TBR. This patch was really cute though and it is currently occupying my bookshelf.
Meira Chapstick ~
This chapstick is supposed to represent Meira from Snow Like Ashes. The flavor is frozen berries and it smells really good.
Bone Witch Socks ~
I found these to be absolutely ADORABLE!! They fit the October month really well and I just love the sayings on the bottoms.
Strange the Dreamer Mouse Pad ~
This was by far one of my most favorite items in the box. It was absolutely perfect and I use it every day now!
Gentlefriend Pillowcase ~
The only item that could top the mouse pad was this one! It is based on Nevernight and, after recently just finishing that series and it being one of my favorites, I could not love this pillowcase more! AHHHHH!!! I fell to the floor screaming when I saw it in the box!
---
Monthly Polaroid and Coin:
For those that don't know, each month Fae Crate has a monthly Polaroid picture that they include and a monthly coin. These are exclusive to each month and you cannot get them again. Fae Crate announces what the Polaroid is to look like and what fandom the coin is going to be from on their Instagram.
I highly encourage you to check them out so you can decide if you want a box before they sell out!
The Darkest Minds Polaroid ~
I absolutely love this Polaroid! It is so beautiful and captures the gang in The Darkest Minds perfectly! It is by far one of my favorite Polaroids!
Three Dark Crowns Coin ~
I. AM. SO. IN. LOVE. WITH. THIS. IT. IS. NOT. EVEN. FUNNY. LOOK AT THE PERFECTION THAT IS THIS COIN!!! It is definitely my favorite in the coin collection!
November's Polaroid and Coin have already been announced. For those that want to know, they are:
LIFEL1K3 Polaroid & King Arthur Coin
---
Monthly Ebook Download:
Each month not only does Fae Crate include a hardcover book, but they also include a code so you can download a free ebook! The ebook for this month was Significance by Shelly Crane.
This is a book that I have already read and have loved for years. It is one of my favorite series out there so I was really happy to get this ebook!
---
Book of the Month:
The Book of the Month was
 The Never Tilting World by Rin Chupeco.
I am highly anticipating diving in to this book and I am extremely happy that it was the selection for this month. That cover is absolutely stunning!
The book also came with a card from the author that I thought was so beautiful that I had to include it! That quote is literally everything! Here it is:
---
Thank you for joining me today! I had so much fun opening this box and talking about all of the bookish items inside! What about you? Do you subscribe to Fae Crate? Do you subscribe to any other monthly book boxes? What do you think of my unboxing and the items in this month's box? Please let me know!
~𝒜𝓊𝓉𝓊𝓂𝓃

💕