Hello Lovelies! Today, I thought I'd do the Goodreads Book Tag. I recently hit my two year anniversary on Goodreads so I figured now would be a really good time to do it.
---
𝕎𝕙𝕒𝕥 𝕨𝕒𝕤 𝕥𝕙𝕖 𝕝𝕒𝕤𝕥 𝕓𝕠𝕠𝕜 𝕪𝕠𝕦 𝕞𝕒𝕣𝕜𝕖𝕕 𝕒𝕤 '𝕣𝕖𝕒𝕕'?
∴  Consumed (Dark Protectors #4) by Rebecca Zanetti ∴
My review for this book can be found here.
---
𝕎𝕙𝕒𝕥 𝕒𝕣𝕖 𝕪𝕠𝕦 𝕔𝕦𝕣𝕣𝕖𝕟𝕥𝕝𝕪 𝕣𝕖𝕒𝕕𝕚𝕟𝕘?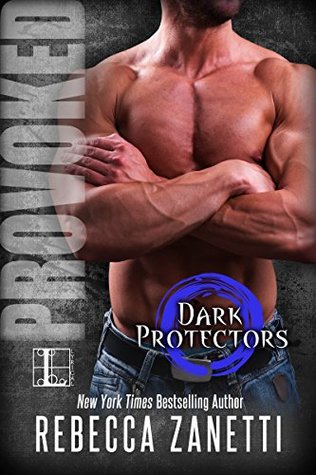 ∴  Provoked (Dark Protectors #5) by Rebecca Zanetti ∴
---
𝕎𝕙𝕒𝕥 𝕨𝕒𝕤 𝕥𝕙𝕖 𝕝𝕒𝕤𝕥 𝕓𝕠𝕠𝕜 𝕪𝕠𝕦 𝕞𝕒𝕣𝕜𝕖𝕕 𝕒𝕤 𝕋𝔹ℝ?
∴  Smoke and Wishes (Best Wishes #1) by A.J. Macey ∴
---
𝕎𝕙𝕒𝕥 𝕓𝕠𝕠𝕜 𝕕𝕠 𝕪𝕠𝕦 𝕡𝕝𝕒𝕟 𝕥𝕠 𝕣𝕖𝕒𝕕 𝕟𝕖𝕩𝕥?
∴  Twisted (Dark Protectors #5.5) by Rebecca Zanetti ∴
I'm on a big Dark Protectors kick right now and I really don't see myself stopping any time soon! I just love this series and the world that it is in!
---
𝔻𝕠 𝕪𝕠𝕦 𝕦𝕤𝕖 𝕥𝕙𝕖 𝕤𝕥𝕒𝕣 𝕣𝕒𝕥𝕚𝕟𝕘 𝕤𝕪𝕤𝕥𝕖𝕞?
Yes, I do. I also rate my stars based on how Goodreads does. The only exceptions to it that I have is that I use .5 .25 & .75 stars.
---
𝔸𝕣𝕖 𝕪𝕠𝕦 𝕕𝕠𝕚𝕟𝕘 𝕒 𝟚𝟘𝟙𝟡 ℝ𝕖𝕒𝕕𝕚𝕟𝕘 ℂ𝕙𝕒𝕝𝕝𝕖𝕟𝕘𝕖?
YES! I always do a Goodreads Challenge and I always use 100 as my goal. Even though, realistically, I should surpass that with no problems. I just like for my percentages to be easily calculated. For instance, I have read 80 books so far this year and my Goodreads Challenge percentage is 80%. If I were to use 250 as my goal (which is more likely), than the math I would have to do to guess how many books I have to read to reach a certain percentage would be more difficult.
---
𝔻𝕠 𝕪𝕠𝕦 𝕙𝕒𝕧𝕖 𝕒 𝕨𝕚𝕤𝕙𝕝𝕚𝕤𝕥?
I have one on Amazon. It can be found here if you are overly interested.
---
𝕎𝕙𝕒𝕥 𝕓𝕠𝕠𝕜 𝕕𝕠 𝕪𝕠𝕦 𝕡𝕝𝕒𝕟 𝕥𝕠 𝕓𝕦𝕪 𝕟𝕖𝕩𝕥?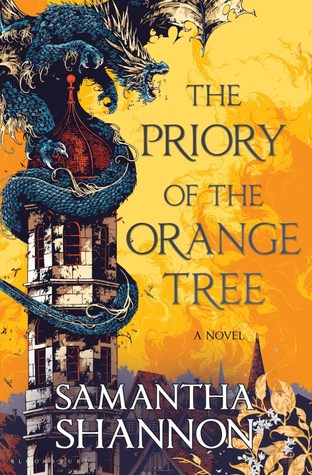 ∴  The Priory of the Orange Tree by Samantha Shannon ∴
I keep seeing this book everywhere and I am really interested in reading it! It certainly sounds like something I would be interested in. Please let me know what you thought of this book!
---
𝔻𝕠 𝕪𝕠𝕦 𝕙𝕒𝕧𝕖 𝕒𝕟𝕪 𝕗𝕒𝕧𝕠𝕣𝕚𝕥𝕖 𝕢𝕦𝕠𝕥𝕖𝕤? 𝕊𝕙𝕒𝕣𝕖 𝕒 𝕗𝕖𝕨.
I have plenty of favorite quotes! I have so many in fact that I post one every day through my Book Quote of the Day posts. Some of my all time favorites would have to be:
"Good and evil are merely opposite sides of a coin. Get tossed in the air enough, it's easy to come down on the wrong side." ~Dreamfever


"Most people are lucky to have even one great love in their life. You have found two." ~Clockwork Princess


"He thinks he'll be remembered as the villain in the story. But I forgot to tell him that the villain is usually the person who locks up the maiden and throws away the key. He was the one who let me out." ~A Court of Mist and Fury

"The Court of Dreams.
The people who knew that there was a price, and one worth paying, for that dream. The bastard- born warriors, the Illyrian half breed, the monster trapped in a beautiful body, the dreamer born into a court of nightmares…And the huntress with an artist's soul." ~A Court of Mist and Fury

"Maybe there were people who lived those lives. Maybe this girl was one of them. But what about the rest of us? What about the nobodies and the nothings, the invisible girls? We learn to hold our heads as if we wear crowns. We learn to wring magic from the ordinary. That was how you survived when you weren't chosen, when there was no royal blood in your veins. When the world owed you nothing, you demanded something of it anyway." ~Crooked Kingdom
---
𝕎𝕙𝕠 𝕒𝕣𝕖 𝕪𝕠𝕦𝕣 𝕗𝕒𝕧𝕠𝕣𝕚𝕥𝕖 𝕒𝕦𝕥𝕙𝕠𝕣𝕤?
On Goodreads, my favorite authors are listed like ⬆️ but there are many more 💕
---
ℍ𝕒𝕧𝕖 𝕪𝕠𝕦 𝕛𝕠𝕚𝕟𝕖𝕕 𝕒𝕟𝕪 𝕘𝕣𝕠𝕦𝕡𝕤?

I am currently a part of two groups. They are Reverse Harem Revolution and Top 5 Wednesday. RHR is where we talk about everything RH and more and Top 5 Wednesday is group where bookish prompts are given to use each Wednesday to discuss. Anyone is welcome to join either group.
---
BUT feel free to do this tag for yourself! I tag you too!!

---
Thank you for joining me! This tag was different and fun.
Here
is the link to my Goodreads if you want to friend me/check me out there. I accept all friends requests, as long as you are active on
Goodreads.
~𝒜𝓊𝓉𝓊𝓂𝓃