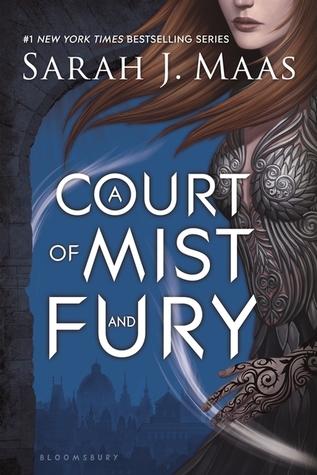 ∴ Goodreads | Amazon US | Barnes & Noble | Book Depository | Books-A-Million ∴
---
Synopsis:
Feyre survived Amarantha's clutches to return to the Spring Court—but at a steep cost. Though she now has the powers of the High Fae, her heart remains human, and it can't forget the terrible deeds she performed to save Tamlin's people.
Nor has Feyre forgotten her bargain with Rhysand, High Lord of the feared Night Court. As Feyre navigates its dark web of politics, passion, and dazzling power, a greater evil looms—and she might be key to stopping it. But only if she can harness her harrowing gifts, heal her fractured soul, and decide how she wishes to shape her future—and the future of a world cleaved in two.

---
🍁🍁🍁🍁🍁
1st Read Rating: 5 Stars
2nd Read Rating: 5 Stars
3rd Read Rating: 5 Stars
May 9, 2019 Review (5 Stars)-
MAJOR SPOILERS THROUGHOUT:
*This whole review is basically going to be me gushing over how much I love the characters and the series so… You've been warned*
This book is my favorite book of all time… I'm just gonna let that sink in for a moment…

"To the stars who listen—and the dreams that are answered."
No matter how many times I read it, I still love it more than words can describe each time. My love for these characters and this series grows more and more as time passes and I can't put into words what this series means to me. It deserves literally all of the stars and more and me rating it five stars doesn't do it justice.

"He thinks he'll be remembered as the villain in the story. But I forgot to tell him that the villain is usually the person who locks up the maiden and throws away the key. He was the one who let me out."
Rhysand- Rhys is my favorite male character ever. I fall for him every time I read this book and I absolutely sob my eyes out every time I read chapters 54 and 55. Hearing him talk about everything he has been through and was prepared to give up for Feyre's happiness guts me. He always put her first and always gave her a choice, no matter what he wanted… I can't put into words how perfect he is and I don't believe that it is possible to love a character more.

"I was not a pet, not a doll, not an animal.
I was a survivor, and I was strong.
I would not be weak, or helpless again
I would not, could not be broken. Tamed."
Feyre- I'm not gonna lie, it has taken me a while to warm up to Feyre. I wasn't her biggest fan before this book. She came off whiny and I just didn't like her way of thinking. I honestly feel like her character is what turns a lot of people off to this series during the first book. But I have found, that if you push through the first book, her character goes through one of the biggest arcs I have ever seen. Feyre turns into this strong and independent woman that I really admire. Late ACOTAR Feyre and late ACOMAF Feyre are SO different, you barely recognize her. And I have come to really appreciate that part of this story. I personally feel like Sarah is best when she is writing about a character that starts of broken.. and that is what Feyre is at the start of this book. She is in one of darkest places imaginable and watching her slowly come back to life throughout this book brings me to tears. Every. Time.

"And I realized—I realized how badly I'd been treated before, if my standards had become so low. If the freedom I'd been granted felt like a privilege and not an inherent right."
Tamlin- After reading this book for the third time, I have stopped being angry at Tamlin… I am well past anger now. I HATE him and his character. The whole ending to this book pisses me off to a whole other level. I don't care what Tamlin does in ANY future books, I will never forgive him for what happened to Elain and Nesta… But more so for Rhys… whose mother and sister were slaughtered because of TAMLIN. That can never be undone in my opinion and I'll never forget it. He doesn't deserve forgiveness, and that's never gonna change for me.

"When you spend so long trapped in darkness, Lucien, you find that the darkness begins to stare back."
Lucien- A lot of people didn't blame Lucien like I feel they should have. He was a bystander to everything that happened and he just watched. He watched Feyre waste away and, in my mind, he doesn't deserve Elain and he never will. (Yes, I have read the future books and I know a lot of people forgive him, but I'll get more into why I do not in my ACOWAR review).

"The Court of Dreams. The people who knew that there was a price, and one worth paying, for that dream. The bastard- born warriors, the Illyrian half breed, the monster trapped in a beautiful body, the dreamer born into a court of nightmares… And the huntress with an artist's soul."
The Court of Dreams-
I love every member of The Court of Dreams SOOOOOO much. They are all so beautiful and perfect and their stories break my heart. I cry every time I read about it and I am so happy that this group of broken misfits have found each other. There is no better squad family out there.

"I think Nesta feels everything— sees too much; sees and feels it all. And she burns with it. Keeping that wall up helps from being overwhelmed, from caring too greatly."
Nesta- A lot of people struggle with Nesta's character, but I don't. After that point in ACOTAR where she tells Feyre that the glamour didn't work on her and she searched for her sister, I knew that Nesta was a good person. She uses that anger and steel on the outside, but I can tell, she's just as broken as The Court of Dreams members, she just hides it better. AND I really hope that Nesta's book does justice to her character and we get to see more of the beautiful person that I know is there deep down.

"There are good days and hard days for me—even now. Don't let the hard days win."
Elain- I connect with Elain the most out of the Archeron sisters, because I am most like her. Soft-hearted and a romantic at heart… and I will always love Elain because of it. Lucien is not worthy of her, and I am a firm #Elriel shipper (but I'll get more into that in my ACOWAR review).

"And so Tamlin unwittingly led the High Lady of the Night Court into the heart of his territory."
Overall, I highly enjoyed this book (like every other time I have read it)! I honestly couldn't love this story more and I will ALWAYS cherish it. Whether is remains my favorite book or not (though I hardly doubt that any book could replace it… unless written by Sarah of course).
April 4, 2017 Review (5 Stars)-
I absolutely adored this book! I could not put it down even to sleep. If you are skeptical to read it, let me assure you that, if you read nothing else, read this book. I LOVE Sarah J. Maas' writing! The world- building is absolutely phenomenal. If you liked the first book you will definitely love this book. I read it and can not wait for the next and final book. I have read this book twice now which is saying something because I never reread books. Sarah J. Maas is the only author that I will ever reread because her books are just that good. I implore you to read this book!
---
Other Books in the Series:
4 🍁s ~ A Court of Thorns and Roses (A Court of Thorns and Roses #1) by Sarah J. Maas
5 🍁s ~ A Court of Wings and Ruin (A Court of Thorns and Roses #3) by Sarah J. Maas
4 🍁s ~ A Court of Frost and Starlight (A Court of Thorns and Roses #3.1) by Sarah J. Maas