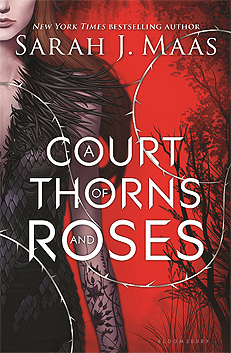 ∴ A Court of Thorns and Roses (A Court of Thorns and Roses #1) by Sarah J. Maas ∴
---
Synopsis:
Feyre's survival rests upon her ability to hunt and kill – the forest where she lives is a cold, bleak place in the long winter months. So when she spots a deer in the forest being pursued by a wolf, she cannot resist fighting it for the flesh. But to do so, she must kill the predator and killing something so precious comes at a price …
Dragged to a magical kingdom for the murder of a faerie, Feyre discovers that her captor, his face obscured by a jewelled mask, is hiding far more than his piercing green eyes would suggest. Feyre's presence at the court is closely guarded, and as she begins to learn why, her feelings for him turn from hostility to passion and the faerie lands become an even more dangerous place. Feyre must fight to break an ancient curse, or she will lose him forever.
---
🍁🍁🍁🍁🍁
"Rhysand stared at me for long enough that I faced him.
"Be glad of your human heart, Feyre. Pity those who don't feel anything at all."
1st Read Rating: 5 Stars
2nd Read Rating: 4 Stars
MAJOR SERIES SPOILERS THROUGHOUT:
Obviously, by reading this book before, I knew what was going to happen and I also knew the plot later down the road because I have read the books after this one. This is my second time reading this book and while I still love it, my opinions have drastically changed. I was actually surprised at how much they changed.
My opinion of Tamlin changed drastically. Yes, some of it may have to do with what he does in future books but, rereading it, I noticed some things I didn't before. For one thing, he did show signs of being abusive behavior towards Feyre. The scene where he corners her in the hallway after Calanmai in particular. Feyre tells Tamlin to let go of her yet he refuses after she repeatedly tells him to do so. He then bites her against her will. When questioned about it the next morning by Lucien, he says that it is Feyre's fault for disobeying his orders. EXCUSE ME?! I am not even going to get started at how wrong that is. He assaulted her and has the nerve to blame her for it?! That is only one example of his abusive traits. Looking back, I have no idea how blind I was to his abusive behavior when I was first reading it.
One thing that shocked me was that my opinion of Lucien changed. When I read the book the first time, I really liked his character and gave him nothing but praise. I understand he had a really tough life and lost the girl he loved, but he was horrible to Feyre in this book. He flat out admits that he hesitated to save her when she screamed for help when fighting the naga. If Tamlin had not been there, Lucien would have let Feyre die. After rereading this book, I realize that I strongly dislike Lucien as a character now.
On the positive side, I did notice a ton of things that are later a big deal as the books go on. Sarah really did plant a lot of seeds that grow into major plot points later on in the series. I really enjoyed finding little things that I overlooked the first time reading it.
While I still love this series, I feel like I can appreciate it a lot more now because of my change in emotions. I never thought it was possible for my opinion to change that much in a book. If I am being totally honest, this didn't even feel like the same book while rereading it. I think that really speaks to how gifted Sarah is that she was able to do that.
---
Other Books in the Series:
5 🍁s ~ A Court of Mist and Fury (A Court of Thorns and Roses #2) by Sarah J. Maas
5 🍁s ~ A Court of Wings and Ruin (A Court of Thorns and Roses #3) by Sarah J. Maas
4 🍁s ~ A Court of Frost and Starlight (A Court of Thorns and Roses #3.1) by Sarah J. Maas