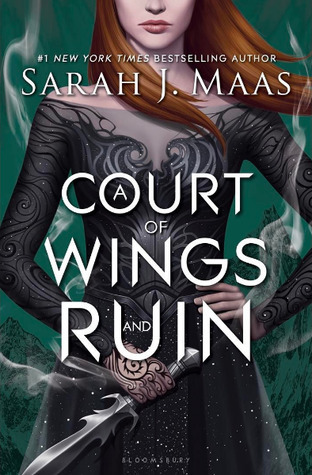 ∴ A Court of Wings and Ruin (A Court of Thorns and Roses #3) by Sarah J. Maas ∴
---
Synopsis:
Looming war threatens all Feyre holds dear in the third volume of the #1 New York Times bestselling A Court of Thorns and Roses series.
Feyre has returned to the Spring Court, determined to gather information on Tamlin's maneuverings and the invading king threatening to bring Prythian to its knees. But to do so she must play a deadly game of deceit-and one slip may spell doom not only for Feyre, but for her world as well.
As war bears down upon them all, Feyre must decide who to trust amongst the dazzling and lethal High Lords-and hunt for allies in unexpected places.
In this thrilling third book in the #1 New York Times bestselling series from Sarah J. Maas, the earth will be painted red as mighty armies grapple for power over the one thing that could destroy them all.
---
🍁🍁🍁🍁🍁
"Remember that you are a wolf. And you cannot be caged."
I have no words. No words to describe the masterpiece that Sarah J. Maas has given this world. I absolutely LOVED this book and I can't imagine having to live without it. I have fallen in and out of love with these characters for three books now and I have no idea what I am going to do with my life now that the Rhys/Feyre love story is over. I know that Sarah has three more books coming out set in this world but I am scared that it will not be the same. I have read many book series in my life and I have never found a love story quite like this one. I am very sad to see all of the characters go, even if it is for just a little while. This book had me constantly clutching my chest and always had my heart pounding. There was not a chapter that went by that I did not say "Please do not let these characters die." I am sure I am not the only person that felt this way. The last 150 pages of the book made my heart pound and I cried and cried. You never want to see a charter that you love in a book get hurt, but Sarah J. Maas does more to her characters than that. Sarah has a way of making you fall in love with all of her characters and you find yourself wanting to know them and wishing they were real. I had no idea how Sarah was going to end this book and I'm still not sure how she came up with the ending that she did. Sarah J. Maas is utterly brilliant and a mind-blowingly incredible author. It has been a privilege to read this series and I can not wait for more. If you haven't read this book or are contemplating it, I highly recommend it. Definitely one of the best YA series ever. Please read!
---
Other Books in the Series:
5 🍁s ~ A Court of Thorns and Roses (A Court of Thorns and Roses #1) by Sarah J. Maas
5 🍁s ~ A Court of Mist and Fury (A Court of Thorns and Roses #2) by Sarah J. Maas
4 🍁s ~ A Court of Frost and Starlight (A Court of Thorns and Roses #3.1) by Sarah J. Maas