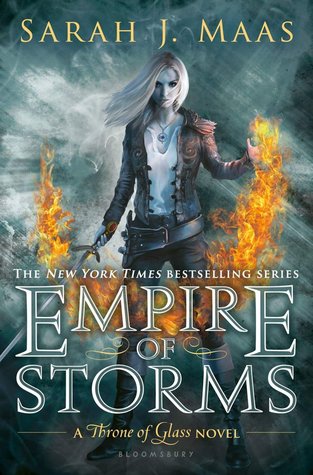 ∴ Goodreads | Amazon US | Barnes & Noble | Books-A-Million | Book Depository ∴
---
Synopsis:
The long path to the throne has only just begun for Aelin Galathynius as war looms on the horizon. Loyalties have been broken and bought, friends have been lost and gained, and those who possess magic find themselves at odds with those who don't.
With her heart sworn to the warrior-prince by her side, and her fealty pledged to the people she is determined to save, Aelin will delve into the depths of her power to protect those she loves. But as monsters emerge from the horrors of the past, and dark forces become poised to claim her world, the only chance for salvation will lie in a desperate quest that may mark the end of everything Aelin holds dear.
In this breathtaking fifth installment of the New York Times bestselling Throne of Glass series, Aelin will have to choose what—and who—to sacrifice if she's to keep the world of Erilea from breaking apart.
---
🍁🍁🍁🍁🍁
"Even when this world is a forgotten whisper of dust between the stars, I will always love you."
1st Read Rating: 5 Stars
2nd Read Rating: 5 Stars
3rd Read Rating: 5 Stars
I can't even begin to to express the love I have for this book and this series. This book breaks my heart into a million little pieces each time I read it and, even though I know how it ends, every time I reread the ending, I find myself hoping that it will magically change.
I don't know how I am going to deal with this series ending in 8 days and I am honestly scared to read the last book. I don't want my favorite characters to die and I don't want this series to end. Throne of Glass will always hold a special place in my heart and I can't imagine not having read it.
---
Other Books in the Series:
4 🍁s ~ The Assassin's Blade (Throne of Glass #0.1-0.5) by Sarah J. Maas
4.25 🍁s ~ Throne of Glass (Throne of Glass #1) by Sarah J. Maas
5 🍁s ~ Crown of Midnight (Throne of Glass #2) by Sarah J. Maas
5 🍁s ~ Heir of Fire (Throne of Glass #3) by Sarah J. Maas
5 🍁s ~ Queen of Shadows (Throne of Glass #4) by Sarah J. Maas
4 🍁s ~ Tower of Dawn (Throne of Glass #6) by Sarah J. Maas