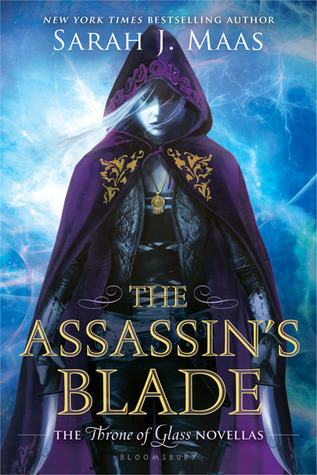 ∴ The Assassin's Blade (Throne of Glass #0.1-0.5) by Sarah J. Maas ∴
---
Synopsis:
Contains all five novellas.
Celaena Sardothien is Adarlan's most feared assassin. As part of the Assassin's Guild, her allegiance is to her master, Arobynn Hamel, yet Celaena listens to no one and trusts only her fellow killer-for-hire, Sam. In these action-packed novellas – together in one edition for the first time – Celaena embarks on five daring missions. They take her from remote islands to hostile deserts, where she fights to liberate slaves and seeks to avenge the tyrannous. But she is acting against Arobynn's orders and could suffer an unimaginable punishment for such treachery. Will Celaena ever be truly free? Explore the dark underworld of this kick-ass heroine to find out.
---
🍁🍁🍁🍁
"If you can learn to endure pain, you can survive anything. Some people learn to embrace it- to love it. Some endure it through drowning it in sorrow, or by making themselves forget. Others turn it into anger."
Sarah J. Maas can literally do no wrong in my mind. I absolutely loved Throne of Glass and I was actually a little leery of reading a book that was prior to the series because I wasn't as a fan of the first two books as I was of the last three. I also knew that this book was going to be very sad because it is a prequel to Throne of Glass and I obviously knew how it was going to end. Sarah did not disappoint. I tried really hard not to get attached to Sam but Sarah J. Maas just creates characters that I always connect with and I couldn't help it. I will forever miss Sam. The final novella in the series (The Assassin and the Empire) totally wrecked me. I cried, I couldn't help it. I definitely recommend people read it before Queen of Shadows because it gives a good background to the plot for that book. Overall, it was really good and I definitely enjoyed it and recommend for TOG fans that haven't read it yet.
---
Other Books in the Series:
4.25 🍁s ~ Throne of Glass (Throne of Glass #1) by Sarah J. Maas
5 🍁s ~ Crown of Midnight (Throne of Glass #2) by Sarah J. Maas
5 🍁s ~ Heir of Fire (Throne of Glass #3) by Sarah J. Maas
5 🍁s ~ Queen of Shadows (Throne of Glass #4) by Sarah J. Maas
5 🍁s ~ Empire of Storms (Throne of Glass #5) by Sarah J. Maas
4 🍁s ~ Tower of Dawn (Throne of Glass #6) by Sarah J. Maas