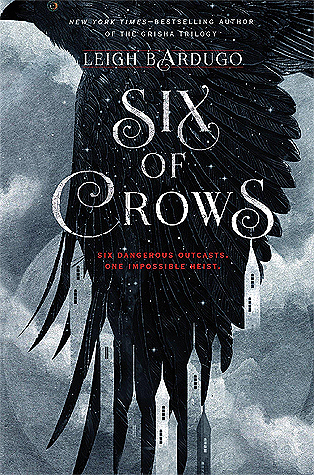 ∴ Six of Crows (Six of Crows #1) by Leigh Bardugo ∴
---
Synopsis:
Ketterdam: a bustling hub of international trade where anything can be had for the right price–and no one knows that better than criminal prodigy Kaz Brekker. Kaz is offered a chance at a deadly heist that could make him rich beyond his wildest dreams. But he can't pull it off alone…
A convict with a thirst for revenge.
A sharpshooter who can't walk away from a wager.
A runaway with a privileged past.
A spy known as the Wraith.
A Heartrender using her magic to survive the slums.
A thief with a gift for unlikely escapes.
Six dangerous outcasts. One impossible heist. Kaz's crew is the only thing that might stand between the world and destruction—if they don't kill each other first.
---
🍁🍁🍁🍁🍁
"Many boys will bring you flowers. But someday you'll meet a boy who will learn your favorite flower, your favorite song, your favorite sweet. And even if he is too poor to give you any of them, it won't matter because he will have taken the time to know you as no one else does. Only that boy earns your heart."
I absolutely loved this book. I had never read a heist novel before and I was pleasantly surprised. I started this book because of the hype surrounding it and I am extremely glad I did it. The plot was fascinating and constantly had my attention. I couldn't put this book down.
I loved each of the characters and their backstories. I love Kaz Brekker and all of his crew. I want to join! I love how mysterious Kaz is and I really liked how hot and cold he was. I enjoyed his point of view and I can honestly say I've never read a character like him. I loved Inej as well. I felt really bad for things she had been through and I felt a lot of sympathy for her. I'm not sure how I feel about Jesper or Wylan yet, I kind of flip flop on how I feel about them both. I didn't get to see enough of them to make a full opinion. I absolutely loved Matthias and Nina. I enjoyed getting a look at their history together and I adored their banter throughout the book. There was so much character development and I loved that. I loved the fact that the characters were all antiheroes and I loved rooting for them.
I have read Shadow and Bone (which is placed in the same world) and I didn't enjoy it anywhere near as much. But even though I had had knowledge of the world going in, I had forgotten a lot of it. Leigh Bardugo did a great job of helping with that and with describing the world and magic system. Someone could easily read this without reading the Grisha trilogy and still completely understand it. I loved the world building and the world itself is very interesting. I would love to see more of it. I'm excited for more and I can't wait to start reading Crooked Kingdom.
---
Other Books in the Series: