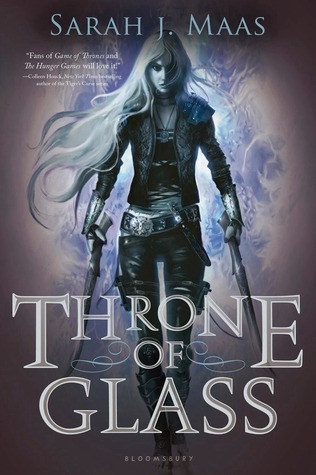 ∴ Throne of Glass (Throne of Glass #1) by Sarah J. Maas ∴
---
Synopsis:
In a land without magic, where the king rules with an iron hand, an assassin is summoned to the castle. She comes not to kill the king, but to win her freedom. If she defeats twenty-three killers, thieves, and warriors in a competition, she is released from prison to serve as the king's champion. Her name is Celaena Sardothien.
The Crown Prince will provoke her. The Captain of the Guard will protect her. But something evil dwells in the castle of glass–and it's there to kill. When her competitors start dying one by one, Celaena's fight for freedom becomes a fight for survival, and a desperate quest to root out the evil before it destroys her world.
---
4.25 🍁s
"We all bear scars, … Mine just happen to be more visible than most."
1st Read Rating: 4 Stars
2nd Read Rating: 4.25 Stars
MAJOR SERIES SPOILERS THROUGHOUT:
I am rereading this series for the release of Kingdom of Ash and I am going to be honest; I wasn't looking forward to rereading this book. Out of all the books in the series, this one is my least favorite and when I first read it, I enjoyed it the least. So, I went into this reread expecting to hate it and expecting to have to force myself through it. I am shocked and happy to say that that was not the case. As soon as I started reading this book, all of my feelings for the series came back and I actually enjoyed it more than my first time reading it.
The sheer amount of foreshadowing alone is astounding. There are little hints throughout this book that aren't addressed again until the later books, some as late as Empire of Storms. That is astounding to me. The time and the amount of planning Sarah must have put in to have these things make sense later is crazy. It got to the point where I started tabbing lines throughout the book that will have an impact later or ones that I think will impact the ending of Kingdom of Ash. You can barely see the pages because I have so many things tabbed! This alone bumped up my enjoyment and my overall reading experience. I had so much fun trying to find little hints throughout the book.
There are a few things that my opinion has changed on that I want to mention:
Kaltain- When I read this book for the first time, I absolutely HATED Kaltain with a passion. I thought that she was a mean girl that was just jealous of Celaena and wanted Dorian's attention. During this read, I saw her in a completely different light. I think that she was a girl from a minor noble family that just wanted to have control over her own destiny. Unfortunately for her, the way she thought she could attain this was by becoming Queen and the only way to do that is by marrying Dorian. I feel like Perrington saw this and used her for his own means and pinned all of his wrong-doing on her. I think that Kaltain was an ambitious girl that got played and I genuinely feel bad for her.
Dorian- During my first read, I liked him and I was actually on his side over Chaol. Over time though, I felt like he became background music in a way and I actually forgot why I liked him. Going into this book, my feelings had kind of fizzled out for him and I didn't really care about him either way. After rereading this book, I can firmly say that all of my feelings have returned and I absolutely adore him! He is so sweet and caring. I just want to give him a hug and tell him to hold, because things are about to get much worse.
Nehemia- I forgot how much I loved her character. She is so sweet and gentle. Her whole personality is purely good and she always does the right thing. Her and Celaena's friendship is inspiring and (view spoiler).
Overall, I am glad that I decided to reread this book. Whenever I used to look at it on my shelf, I would scrunch my nose a little because I was not a big fan of it. I did not want to reread this and I almost talked myself into skipping rereading it. I ultimately had a lot of fun and it was nice to reread this first installment and remember where it all began before things got much more complicated.
I love this series and I always will. It is arguably my favorite series of all time and I am gonna be sad to see it come to an end in 15 days. I know that a LOT of tears will be shed and I am thankful for the time that I have had with it and the joy that it has brought me over the years.
---
Other Books in the Series:
4 🍁s ~ The Assassin's Blade (Throne of Glass #0.1-0.5) by Sarah J. Maas
5 🍁s ~ Crown of Midnight (Throne of Glass #2) by Sarah J. Maas
5 🍁s ~ Heir of Fire (Throne of Glass #3) by Sarah J. Maas
5 🍁s ~ Queen of Shadows (Throne of Glass #4) by Sarah J. Maas
5 🍁s ~ Empire of Storms (Throne of Glass #5) by Sarah J. Maas
4 🍁s ~ Tower of Dawn (Throne of Glass #6) by Sarah J. Maas