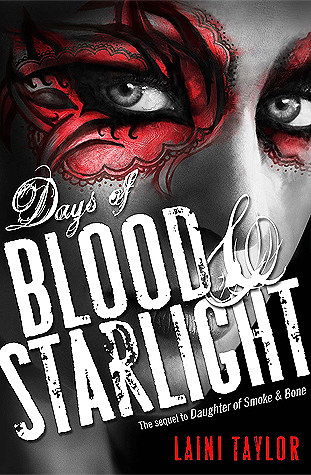 ∴ Days of Blood and Starlight (Daughter of Smoke and Bone #2) by Laini Taylor ∴
---
Synopsis:
Once upon a time, an angel and a devil fell in love and dared to imagine a world free of bloodshed and war.
This is not that world.
Art student and monster's apprentice Karou finally has the answers she has always sought. She knows who she is—and what she is. But with this knowledge comes another truth she would give anything to undo: She loved the enemy and he betrayed her, and a world suffered for it.
In this stunning sequel to the highly acclaimed Daughter of Smoke & Bone, Karou must decide how far she'll go to avenge her people. Filled with heartbreak and beauty, secrets and impossible choices, Days of Blood & Starlight finds Karou and Akiva on opposing sides as an age-old war stirs back to life.
While Karou and her allies build a monstrous army in a land of dust and starlight, Akiva wages a different sort of battle: a battle for redemption. For hope.
But can any hope be salvaged from the ashes of their broken dream?
---
4.5 🍁s
"Once upon a time, an angel and a devil fell in love and dared to imagine a new way of living—one without massacres and torn throats and bonfires of the fallen, without revenants or bastard armies or children ripped from their mothers' arms to take their turn in the killing and dying.

Once, the lovers lay entwined in the moon's secret temple and dreamed of a world that was a like a jewel-box without a jewel—a paradise waiting for them to find it and fill it with their happiness.

This was not that world."
Non-Spoil Section:
This book was really good. I enjoyed it even though the book starts out sad. It was better than the first one in my opinion because the first one took a little while for you to get hooked to it while this one gets you hooked right off of the bat. There was a lot of new characters introduced in this book which is some-what overwhelming but the Laini Taylor develops her characters so well that you get acquainted with them fast. My main problem with this book is that the whole book your are frustrated with the romantic portion. When you pick up Daughter of Smoke and Bone you are expecting an epic Romeo and Juliet type situation, which this book has, but by the end of the book you are really frustrated with Akiva and especially Karou. I would recommend that you read it, especially if you liked the first one. It's worth reading!
Spoil Section/Book Talk:
I'm gonna focus on the main characters in the book and include what happens to them as I go. So first is, of course, Karou and Akiva.
1) Karou and Akiva
The book starts where we left off with Karou being pissed at Akiva for him closing the portals and essentially killing her whole race. She's mainly hurt because this includes Brimstone, Issa, and the rest of her family. I have to admit that I was not upset at Akiva as much as Karou was. I can understand her hurt. But she needs to ask herself- Wouldn't she have done the same thing if it was Haezel or Liraz that hurt Akiva?-I mean he was grieving and hurt that he lost Madrigal/her. I can't honestly blame him. I'm upset that Brimstone died because of him but I can't be upset at him about it. The whole book frustrated me because they OBVIOUSLY still love each other and that IS NOT gonna change. Karou pissed me off because she even says that she feels RIGHT in his arms yet in her head she still tries to deny that she love him?! It's ridiculous. Akiva wants to be with her and deep down she wants to be with him and it's infuriating how much she tries to deny it. And after she finds out that she can still save Brimstone and the others that are trapped under Loramendi I thought that she would definitely forgive him but NOOOO. I can't honestly tell you if they will be together by the end of this trilogy. I want them to be but they keep making excuses and frankly, Karou needs to get over herself. It's done and he can't change it. Move on.
2) Thiago
Let me just tell you how much I HATED Thiago even from the first mention of his name in the 1st book and that didn't change in this one. In the beginning of the book Thiago is all nice and caring to Karou and we don't know if he's being sincere or if he has ulterior motive. Well let me say that I wasn't on the fence. I knew he didn't just go from beheading her in the 1st book to pining after her in the 2nd. I mean come on. He does the pain Tithe a few times, so what? HE DOESN'T CARE ABOUT YOU! The only thing that matters is keeping you under his leash as his resurrectionist. I am SO glad he is dead at the end of the book and we don't have to deal with him anymore. I don't think I could have handled it. I'm so glad of the irony that he died with the shame of his bare ass showing. I mean he tried to rape Karou!! I was losing my crap at that point in the book and I just wanted him to die. I'm actually kind of sad that Akiva didn't get to kill him because I don't even think Karou would have been able to contain his rage at what Thiago had done to her. Bye Bye! No sleep lost of that book death!
3) Ten
I did not trust Ten from the minute I heard about her. She was just too much. It was obvious that she was Thiago's spy. When she suggested that Karou teach her how to resurrect so she could be brought back as a Kirin I was like hell no. This is a trick Karou. If they know how to do it then what use do they have for you? I don't have much else to say about Ten except Bye! Maybe now Thiago will be desperate enough in death to show you attention.
4) Ziri
Let me start out by saying that I like Ziri's character. I do. But I do not ship him and Karou. The only person I would ever ship her with is Akiva. I don't think that Ziri sees just how torn up Karou is over Akiva. I think it causes unnecessary drama and he will eventually get his heart broken over her. She's not Madrigal anymore. I believe that Ziri will try to make a move on Karou by misunderstanding the situation and will get firmly put in the friend zone. He might kiss her and she feels how empty it is because it is not Akiva and that will finally give her the push to go back to him? I like how admirable he is and how brave he is but I know he's eventually gonna get hurt if Karou doesn't tell him that she's not interested. (At least I hope she's not interested)
5) Brimstone and Issa
I was DEVASTATED when we find out that Brimstone was dead. I really felt bad for Karou because she does feel like he is her father in a way. I loved how complex Brimstone's character was and how he treats Karou. I was definitely holding out hope that he was alive or could be resurrected which he can!! Issa I feel like is a really cool mother figure to Karou and I love her character and realationship with Karou. She is definitely a hardcore Akiva and Karou shipper.
6)Festival (Akiva's Mom)
I'm glad we got to learn more about Festival in this book and her relationship with Joram and Jael. I wish we knew more about her. I have a feeling that she is more important than we know to the people over in The Far Isles.
7) Joram ans Jael
I don't have anything unexpected to say about them. I don't like them and I'm glad that Joram died. He was a warmongering pig. Jael I hope is dead but we all know that that is too good to be true. I knew that as soon as Jael disappeared when Akiva was killing Joram that it was a trap. It was too easy. I hope that Jael is stopped in the final book.
8) Haezel and Liraz
Liraz had some major character development in this book. I did not like her in the first book at all but I found her to be more agreeable in the second. I felt really bad when Haezel died and Karou couldn't resurrect him because he was one of those really good characters that deserved to live through the series.
Thanks for reading my review. Its a good book and this series deserves more attention then it has. Thanks Laini Taylor for giving us this wonderful series! Crossing my fingers that Akiva and Karou get together in the end ❤ ❤ ❤
---
Other Books in the Series:
5 🍁s ~ Daughter of Smoke and Bone (Daughter of Smoke and Bone #1) by Laini Taylor
3 🍁s ~ Dreams of Gods and Monsters (Daughter of Smoke and Bone #3) by Laini Taylor