Hello Lovelies! I saw
Sara @ The Bibliophagist
do this tag and I just had to do it for myself! I love The Breakfast Club and the questions were just great!
---
𝒫𝓇𝒾𝓃𝒸𝑒𝓈𝓈 ~ 𝒜 𝒷𝑜𝑜𝓀 𝓉𝒽𝒶𝓉 𝒾𝓈 𝓋𝑒𝓇𝓎 𝓅𝑜𝓅𝓊𝓁𝒶𝓇 𝒶𝓃𝒹 𝓅𝓇𝑒𝓉𝓉𝓎 𝑜𝓃 𝓉𝒽𝑒 𝑜𝓊𝓉𝓈𝒾𝒹𝑒, 𝒷𝓊𝓉 𝓎𝑜𝓊 𝓉𝒽𝑜𝓊𝑔𝒽𝓉 𝓌𝒶𝓈 𝓊𝓃𝒾𝓃𝓉𝑒𝓇𝑒𝓈𝓉𝒾𝓃𝑔 𝑜𝓃 𝓉𝒽𝑒 𝒾𝓃𝓈𝒾𝒹𝑒
∴ Strange the Dreamer by Laini Taylor ∴
I know! I know! This book is SO popular and everyone seems to love it. And before you throw something at me, I will say that it is not a bad book. It just wasn't for me. If you want to know more about why I didn't like it, my review can be found here.
---
𝒞𝓇𝒾𝓂𝒾𝓃𝒶𝓁 ~ 𝒜 𝒷𝑜𝑜𝓀 𝓉𝒽𝒶𝓉 𝓁𝑜𝑜𝓀𝓈/𝓈𝑜𝓊𝓃𝒹𝓈 𝓇𝑜𝓊𝑔𝒽 𝒶𝓃𝒹 𝒷𝒶𝒹, 𝒷𝓊𝓉 𝑒𝓃𝒹𝑒𝒹 𝓊𝓅 𝒸𝑜𝓂𝓅𝓁𝑒𝓉𝑒𝓁𝓎 𝓈𝓉𝑒𝒶𝓁𝒾𝓃𝑔 𝓎𝑜𝓊𝓇 𝒽𝑒𝒶𝓇𝓉
∴ Blood Wager (Blood Destiny #1) by Connie Suttle ∴
The first couple times I saw this cover, I immediately skipped over it. I eventually read the synopsis which wasn't really convincing either. A friend convinced me to read it and I ended up really enjoying it! I did have my ups and downs with this series but I ultimately enjoyed myself. My review of this book can be found here.
---
𝐵𝓇𝒶𝒾𝓃 ~ 𝒜 𝒷𝑜𝑜𝓀 𝓉𝒽𝒶𝓉 𝓂𝒶𝒹𝑒 𝓎𝑜𝓊 𝓉𝒽𝒾𝓃𝓀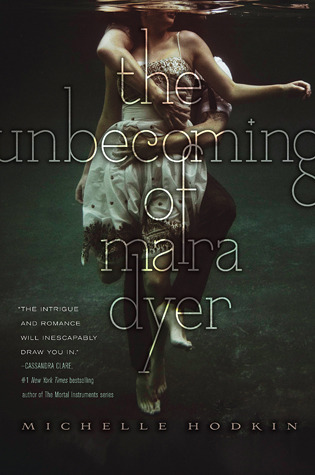 ∴  The Unbecoming of Mara Dyer (Mara Dyer #1) by Michelle Hodkin ∴
This book has a lot of stuff going on and a lot of mystery in it. I spent a lot of this book trying to understand what was happening and coming up with a bunch of theories in my head.
---
𝐵𝒶𝓈𝓀𝑒𝓉 𝒞𝒶𝓈𝑒 ~ 𝒜 𝒷𝑜𝑜𝓀 𝓉𝒽𝒶𝓉 𝓅𝑒𝑜𝓅𝓁𝑒 𝓌𝑜𝓊𝓁𝒹 𝒸𝒶𝓁𝓁 𝓎𝑜𝓊 𝒸𝓇𝒶𝓏𝓎 𝒻𝑜𝓇 𝓇𝑒𝒶𝒹𝒾𝓃𝑔
∴  Taking What's Mine (Forced Submission #1) by Alexa Riley ∴
This book sounded really bad but, at the end of the synopsis it said, "If you're willing to hold off judgement until the last page the ending is worth it, I promise." and that intrigued me. So, I read it… and I'm glad I did. It taught me to not automatically judge a book and give things outside my comfort zone a chance. My review of this book can be found here.
---
𝒜𝓉𝒽𝓁𝑒𝓉𝑒 ~ 𝒜 𝒷𝑜𝑜𝓀 𝓉𝒽𝒶𝓉 𝓂𝒶𝒹𝑒 𝓎𝑜𝓊 𝓈𝓉𝓇𝓊𝑔𝑔𝓁𝑒/𝓌𝑜𝓇𝓀 𝓉𝑜 𝒻𝒾𝓃𝒾𝓈𝒽
∴  Never Too Far (Rosemary Beach #2) by Abbi Glines ∴
This book still makes me incredibly angry when I think about it. I struggled to finish it and the only reason I did was so that I could justify my long rant review. You can read that here.
---
Thank you for joining me! I'm going to tag anyone and everyone for this tag! What do you think of my answers? Do you agree with me? What did you think of the movie?

~𝒜𝓊𝓉𝓊𝓂𝓃

💕