Hello Lovelies! I am SO excited to announce that I will be participating in my first ever readathon!!! That readathon is being done by
Shelflove Crate
.

Here is some information if you
want to take part in it:
Shelflove Crate

is a Monthly Fantasy/Sci-Fi Young Adult Subscription Box for those of us who love to experience new and exciting worlds through reading!
They are doing their 2nd annual readathon this month. The readathon will take place from May 13th to May 27th. There are twelve challenges (listed below), one for each themed box that they had this year.
There are no rules to this readathon other than just to read and have fun. So whether you want to complete 1 challenge or all 12, double up or not, just do whatever works best for you.
---
𝕋𝕙𝕖 ℂ𝕙𝕒𝕝𝕝𝕖𝕟𝕘𝕖𝕤:
*These images were taken from Shelflove Crate's Instagram where you can find their full announcement. They also have some recommendations for the readathon if you are interested*
---
𝕄𝕪 𝕋𝔹ℝ:
NOTE: I am a mood reader so I have no idea how this readathon is going to go for me. And since there are no rules, I am going to be combining a lot of the categories. There are only 14 days in this readathon and it would be dang near impossible to complete all the challenges otherwise. With that being said, here are the books on my readathon TBR:


∴ The Lunar Chronicles Series by Marissa Meyer ∴
This series fits A LOT of the challenges listed and I just need to get to it. I read Scarlet two years ago exactly this month and I keep putting the series off for some reason. I have all of the books on my shelf and I felt like this readathon was the kick in the butt I needed to finally get to it.
Here are the challenge(s) that this series completes:
𝐖𝐑𝐈𝐓𝐓𝐄𝐍 𝐈𝐍 𝐓𝐇𝐄 𝐒𝐓𝐀𝐑𝐒 ~ 𝐒𝐄𝐓 𝐈𝐍 𝐒𝐏𝐀𝐂𝐄

𝐑𝐎𝐌𝐀𝐍𝐂𝐄 𝐑𝐄𝐁𝐎𝐎𝐓 ~ 𝐖𝐈𝐓𝐇 𝐂𝐘𝐁𝐎𝐑𝐆𝐒

𝐔𝐍𝐋𝐈𝐊𝐄𝐋𝐘 𝐇𝐄𝐑𝐎𝐄𝐒 ~ 𝐂𝐇𝐀𝐑𝐀𝐂𝐓𝐄𝐑𝐒 𝐅𝐑𝐎𝐌 𝐎𝐏𝐏𝐎𝐒𝐈𝐓𝐄 𝐖𝐎𝐑𝐋𝐃𝐒

𝐋𝐈𝐅𝐄 𝐈𝐍 𝐓𝐇𝐄 𝐒𝐇𝐀𝐃𝐎𝐖𝐒 ~ 𝐖𝐈𝐓𝐇 𝐀𝐍 𝐎𝐔𝐓𝐁𝐑𝐄𝐀𝐊

𝐅𝐄𝐀𝐓𝐒 𝐎𝐅 𝐈𝐋𝐋𝐔𝐒𝐈𝐎𝐍 ~ 𝐂𝐇𝐀𝐑𝐀𝐂𝐓𝐄𝐑 𝐖𝐈𝐓𝐇 𝐔𝐍𝐓𝐀𝐏𝐏𝐄𝐃 𝐏𝐎𝐓𝐄𝐍𝐓𝐈𝐀𝐋

𝐒𝐀𝐈𝐍𝐓𝐒 𝐀𝐍𝐃 𝐒𝐈𝐍𝐍𝐄𝐑𝐒 ~ 𝐖𝐈𝐓𝐇 𝐒𝐓𝐀𝐑-𝐂𝐑𝐎𝐒𝐒𝐄𝐃 𝐋𝐎𝐕𝐄𝐑𝐒
---
∴ Three Dark Crowns Series by Kendare Blake ∴
I read Three Dark Crowns about a year ago and I really enjoyed it. I did not continue the series because I found out that it hadn't been completed yet. Well, I am trying to branch out and read newer releases and, since I know already that I like this series, it was easy to add =it to my readathon TBR.
Here are the challenge(s) that this series completes:
𝐋𝐄𝐓 𝐓𝐇𝐄 𝐆𝐀𝐌𝐄𝐒 𝐁𝐄𝐆𝐈𝐍 ~ 𝐖𝐈𝐓𝐇 𝐀 𝐓𝐑𝐈𝐀𝐋/𝐓𝐎𝐔𝐑𝐍𝐀𝐌𝐄𝐍𝐓

𝐒𝐈𝐁𝐋𝐈𝐍𝐆 𝐑𝐈𝐕𝐀𝐋𝐑𝐈𝐄𝐒 ~ 𝐖𝐈𝐓𝐇 𝐒𝐈𝐒𝐓𝐄𝐑𝐒
---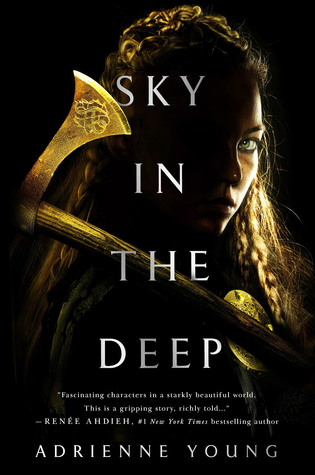 ∴  Sky in the Deep by Adrienne Young ∴
I've had Sky in the Deep on my shelf for a little bit now and I am really excited to get to it this month. I have been wanting to read a book about vikings for a while and there just aren't that many out there. I'm hoping this book lives up to my expectations.
Here are the challenge(s) that this series completes:
𝐖𝐀𝐑𝐑𝐈𝐎𝐑 𝐖𝐎𝐌𝐄𝐍 ~ 𝐕𝐈𝐊𝐈𝐍𝐆 𝐂𝐇𝐀𝐑𝐀𝐂𝐓𝐄𝐑𝐒
---
∴  Power of Five (Power of Five #1) by Alex Lidell ∴
Power of Five has been on my RH TBR shelf for a while now and I feel like this month is the right one to read it. Plus, I've been wanting to read a fae RH since I found out that there was one!

Here are the challenge(s) that this series completes:
𝐌𝐀𝐆𝐈𝐂 𝐀𝐍𝐃 𝐌𝐈𝐒𝐂𝐇𝐈𝐄𝐅 ~ 𝐖𝐈𝐓𝐇 𝐌𝐀𝐆𝐈𝐂𝐀𝐋 𝐂𝐑𝐄𝐀𝐓𝐔𝐑𝐄𝐒
---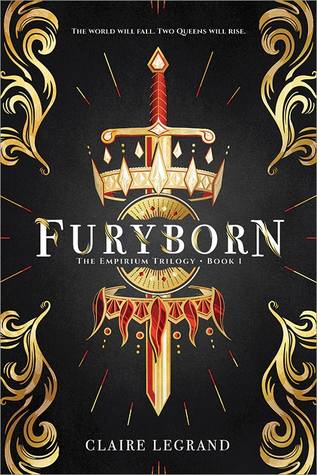 ∴  Furyborn (Empirium #1) by Claire Legrand ∴
This book has been on my TBR for a while and, since I am most likely going to see Claire Legrand when she comes to Georgia for the Kingsbane tour, I feel like now is the perfect time.
Here are the challenge(s) that this book completes:
𝐒𝐐𝐔𝐀𝐃 𝐆𝐎𝐀𝐋𝐒 ~ 𝐌𝐔𝐋𝐓𝐈𝐏𝐋𝐄 𝐏𝐎𝐕𝐒

𝐓𝐀𝐊𝐄 𝐁𝐀𝐂𝐊 𝐓𝐇𝐄 𝐓𝐇𝐑𝐎𝐍𝐄 ~ 𝐑𝐎𝐘𝐀𝐋𝐓𝐘
---
Thank you for joining me today! Are you participating in the

Shelfcrate Readathon?

What are your thoughts on my TBR? Let me know!
~𝒜𝓊𝓉𝓊𝓂𝓃

💕