Hello Lovelies! Today's
Top 5 Wednesday

topic is

Bookish Things I've Changed My Mind About.

We were given the option on what "bookish thing" we wanted to pick and I decided to go with

Books That I've Changed My Mind About.

So, here they are:
---
∴ The Twilight Series by Stephenie Meyer ∴
Original Rating: 5 Stars | Current Rating: 3 Stars
I feel like just about everyone can relate to me when it comes to this series. I read it when there was a lot of hype surrounding it and I found the love triangle addictive. Looking back, I don't know what my teenage brain was thinking. This series just isn't that good and the only reason it is so popular is because people like to hate on it and because of the movies.
*I will say that I still highly enjoy the movies and I do rewatch them every year. They are a guilty pleasure of sorts for me.*
---
∴ The Selection Series by Kiera Cass ∴
Original Rating: 5 Stars | Current Rating: 3 Stars
I read this series when I was just getting into books and I really had nothing to compare it to, which is why I think I rated it so highly. I hadn't really read much YA and this series just seemed so great when I read it. Looking back, I can see a lot of issues and the writing wasn't anything special. I do still think that the concept is unique and the story line is addictive though.
---
∴ Fifty Shades of Grey Series by E.L. James ∴
Original Rating: 5 Stars | Current Rating: 3 Stars
I read this series four years ago and, at the time, I was completely enthralled with the romance. I binge read all of the books (that were out at the time) and I ended up reading them all within a week. I thought that this series was the shit and that the writing was brilliant.
Now, after reading about 600 books since then, I have come to realize that this writing is just a bunch of meh amongst a sea of other books. As far as BDSM goes, there are tons of books out there about it and I'm not quite sure why this one became to famous. I can name plenty that are SO much better.
---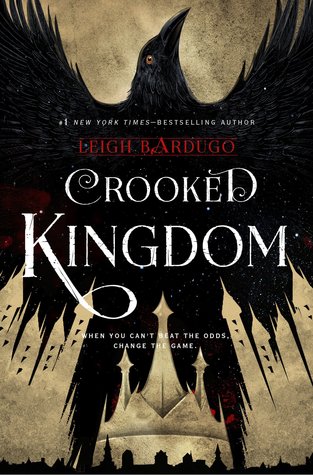 ∴  Crooked Kingdom (Six of Crows #2) by Leigh Bardugo ∴
Original Rating: 5 Stars | Current Rating: 2.5 Stars
I can't really say why I changed my rating of this book without giving away spoilers. I do go into further detail in my review which can be found here.
---
∴  City of Ashes (The Mortal Instruments #2) by Cassandra Clare ∴
Original Rating: 3 Stars | Current Rating: 5 Stars
This is the only book on this list where my opinion changed for the better. You see, when I first read this book, I wasn't that into the story because I was a full on Clace shipper and all I cared about was their relationship. This is the book where Simon and Clary are trying to be in a relationship and I hated that whole aspect of the story. I just didn't enjoy it and it affected my opinion of the whole book.
When I reread this book last year, my opinion completely changed. I knew how everything ended and I wasn't as completely focused on the ships. Instead, I got to sit back and enjoy the plot and the development of the other characters, such as Alec and Magnus's relationship.
---
Thank you for joining me on
Top 5 Wednesday!

What do you think about the books on my list? Do you agree with my original rating or my current rating? Also, please feel free to leave a link to your T5W post so I can look at your list!
~𝒜𝓊𝓉𝓊𝓂𝓃

💕