---
Hello Lovelies! I'm back with another unboxing of my favorite subscription box,
Fae Crate.
These boxes are the highlight of my month and I could not love the items more! I hope you enjoy this month's unboxing as much as I did!
---
June's Theme: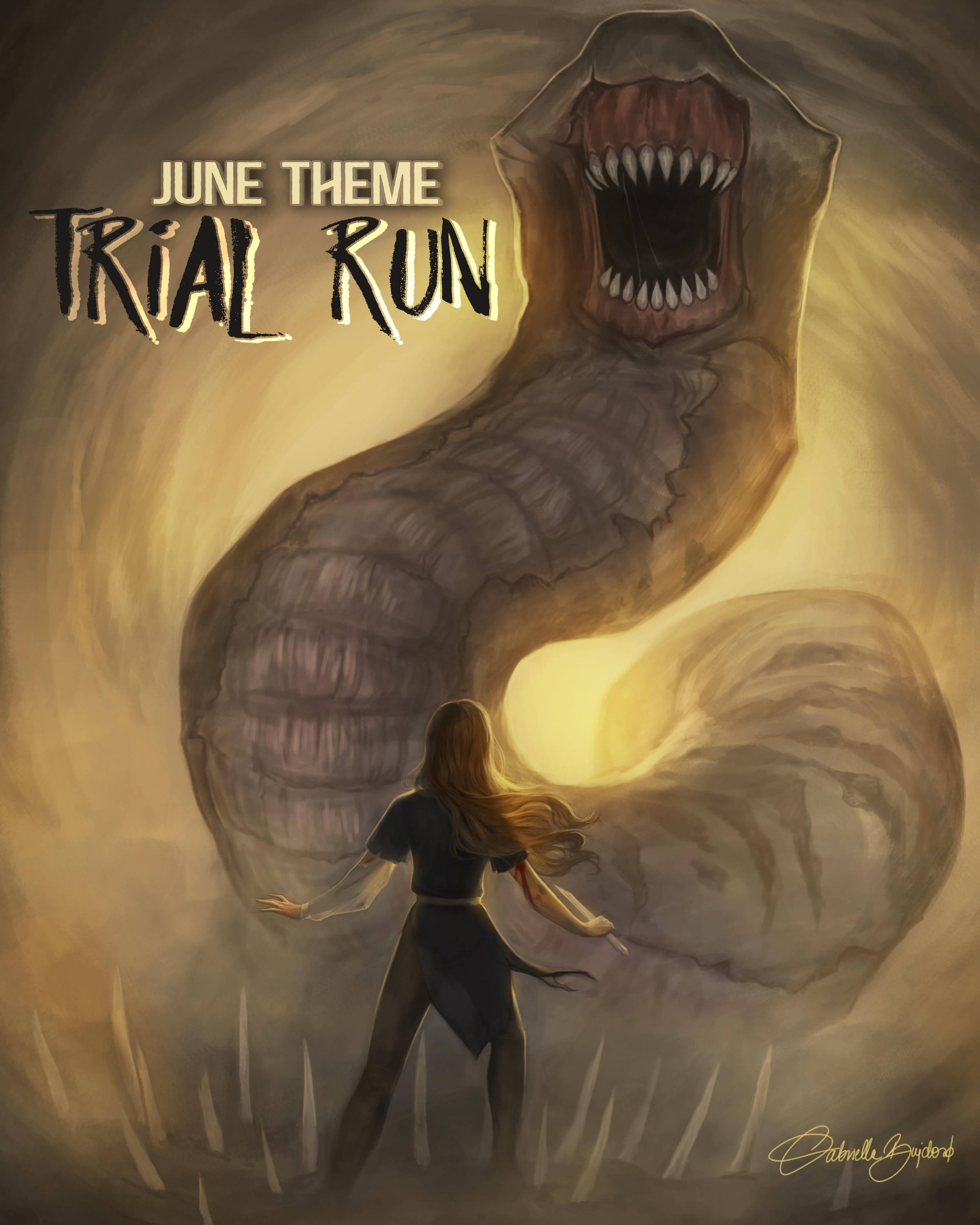 Let's start off with this month's theme which was Trial Run! I loved this theme and I was SO excited when I learned that the art work was based off of one of my favorite series,
A Court of Thorns and Roses!!!
The art of Feyre and the Middengard Wyrm is just so beautiful and fit the theme SO perfectly!
---
The Box Itself:
For those that didn't see my unboxing last month, this is what the box looks like. It's beautiful isn't it?!
I just love everything about this book and the way it looks. The color and logo fit the company perfectly, the *CAUTION: magic inside* lid is absolutely adorable, and the sides that have the company slogan which say, "Let's live a thousand lives together" just warms my heart.
---
The Items in the Box:
TBR Drawstring Bag ~
This bag is just so cute and definitely goes with my TBR level! Sometimes, it feels like my TBR is never ending!
Ready Player One Puzzle ~
I love putting puzzles together while binge watching a TV show so I grabbed this puzzle really quick! And it wasn't one of those easy/twenty minute puzzles either. It was actually challenging and it looked SO great when I finished it!
Gilded Wolves Car Coasters ~
I haven't read this series yet, but these coasters have made me really want to. They are just so mysterious and fancy looking! They already have a spot on my desk!
Six of Crows Wristband ~
The band says, "TRICKERY IS MY NATIVE TONGUE" and I could not be more in love with it if I tried!!! It just fits Six of Crows so well!
The only minor complaint I have is that I wish the background art was different.
Prythian Globe ~
This item is my favorite bookish item I have EVER gotten! I have always been a collector of maps and the Prythian map is my favorite of all!! This globe is like a dream come true for me and it already has a special place on my bookshelves!
---
Monthly Polaroid and Coin:
For those that don't know, each month Fae Crate has a monthly Polaroid picture that they include and (starting last month) a monthly coin. These are exclusive to each month and you cannot get them again. Fae Crate announces what the Polaroid is to look like and what fandom the coin is going to be from on their Instagram.
I highly encourage you to check them out so you can decide if you want a box before they sell out!
Warcross Polaroid ~
I might not be a part of this fandom, but I really liked this month's Polaroid. I am starting a collection and I love this new addition to it!
Raven Cycle Coin ~
AHHHHHH!!!! This coin is just so great and I love it so much and I can't stop screaming!!!!
July and August's Polaroid and Coin have already been announced. For those that want to know, they are:
July ~ Carry On Polaroid and The Young Elites Coin

August ~ King of Scars Polaroid and Percy Jackson Coin
---
Monthly Ebook Download:
Each month not only does Fae Crate include a hardcover book, but they also include a code so you can download a free ebook! The ebook for this month was The Rest is Silence by Chii Rempel.
This is an LGBTQIA+ fantasy and it sounds just so interesting!
The download code was included on the back of this card which is just SO beautiful and I will definitely be keeping it:
---
Book of the Month:
The Book of the Month was
The Red Labyrinth by Meredith Tate.
The hardcover included in the box for this month was a Fae Crate exclusive which means that you can't get it anywhere else! The cover on the left is the original and the cover on the right is the exclusive.
The book also came with a letter from the author and a signed book plate (which I have already added to inside the book):
---
Thank you for joining me today! I had so much fun opening this box and talking about all of the bookish items inside! What about you? Do you subscribe to Fae Crate? Do you subscribe to any other monthly book boxes? What do you think of my unboxing and the items in this month's box? Please let me know!
~𝒜𝓊𝓉𝓊𝓂𝓃

💕