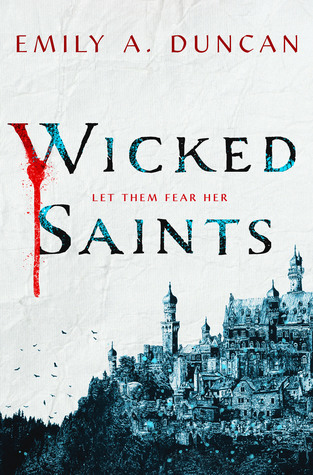 ∴ Goodreads | Amazon US| Barnes & Noble | Book Depository | Books-A-Million ∴
---
Synopsis:
A girl who can speak to gods must save her people without destroying herself.
A prince in danger must decide who to trust.
A boy with a monstrous secret waits in the wings.
Together, they must assassinate the king and stop the war.
In a centuries-long war where beauty and brutality meet, their three paths entwine in a shadowy world of spilled blood and mysterious saints, where a forbidden romance threatens to tip the scales between dark and light. Wicked Saints is the thrilling start to Emily A. Duncan's devastatingly Gothic Something Dark and Holy trilogy..
---
🍁🍁🍁🍁🍁
"We're all monsters, Nadya, some of us just hide it better than others."
*I received an eARC of this book from NetGalley in exchange for an honest review.*
I loved this book! It grabbed my attention almost immediately and would not let go! The characters were phenomenal and written so well. They were developed perfectly and all stood out in their own way. The pacing was spot on and I was never bored. It was dark and gritty and everything I didn't know I needed! The plot twists left me reeling and I need the next book like yesterday!