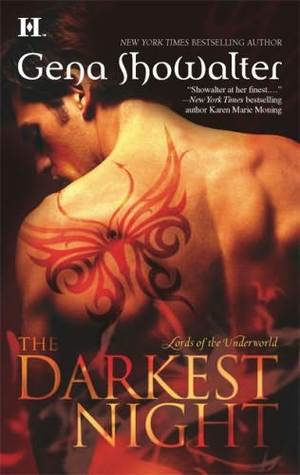 ∴ Goodreads | Amazon US | Barnes & Noble | Book Depository ∴
---
Synopsis:
His powers – Inhuman…
His passion – Beyond immortal…
All her life, Ashlyn Darrow has been tormented by voices from the past. To end the nightmare, she has come to Budapest seeking help from men rumored to have supernatural abilities, not knowing she'll be swept into the arms of Maddox, their most dangerous member — a man trapped in a hell of his own.
Neither can resist the instant hunger than calms their torments… and ignites an irresistible passion. But every heated touch and burning kiss will edge them closer to destruction — and a soul-shattering test of love…
Though they carry an eternal curse, the Lords of the Underworld are irresistibly seductive — and unimaginably powerful…
Don't miss this incredible new paranormal series from Gena Showalter!
---
4.25 🍁s
You are mine, woman, and I am yours. Until you, my life was desolate. I existed, but I didn't truly live. Now I live, even in my death."
*MINOR SPOILERS/PLOT DETAILS*
I really liked this book. The plot was interesting and unique. I have never read anything like it and I was really happy with the concept. Each of the Lords of the Underworld have a specific demon inside of them which I thought was a brilliant concept for a book.
Maddox had the demon Violence so he got angry easily which often resulted to him breaking anything near him. His destructive personality aside, he was very sweet and thoughtful. His devotion to Ashlyn was awe-inspiring. He would literally do anything for her, even spend his life in hell for eternity. If that isn't love and devotion, I don't know what is.
Ashlyn was different. She grew up very sheltered, not having a lot of interactions with other people. She had the ability of wherever she was standing, she could hear all of the conversations that have ever been said there. For reasons not explained, whenever she was near Maddox, she couldn't hear the voices anymore. Because of her ability, she had a hard time being around people with no idea of the supernatural world. They often thought she was a freak and/or believed she was crazy. Her own parents gave her away because they could not handle her as a child. I felt really bad for her and I was glad that she found someone that didn't judge her and actually helped her.
The Lords of the Underworld were unique as well. I enjoyed each of their personalities and I can't wait to read their stories. I liked each of them and I honestly think I would be happy no matter who's story is next.
The last thing that I just have to mention is the final lines of the book, "They stood. And the man with the blackest violent streak in the whole wide world chased her laughingly from the room, leaving everyone staring after them in wonder and envy. Perhaps their time would come…". If that isn't foreshadowing, I don't know what is. I can't wait to continue on with this great series!
---
Other Books in the Series:
4 🍁s ~ The Darkest Kiss (Lords of the Underworld #2) by Gena Showalter
5 🍁s ~ The Darkest Pleasure (Lords of the Underworld #3) by Gena Showalter
4 🍁s ~ The Darkest Whisper (Lords of the Underworld #4) by Gena Showalter
4 🍁s ~ The Darkest Angel (Lords of the Underworld #4.5) by Gena Showalter
5 🍁s ~ The Darkest Passion (Lords of the Underworld #5) by Gena Showalter
5 🍁s ~ The Darkest Lie (Lords of the Underworld #6) by Gena Showalter
5 🍁s ~ The Darkest Secret (Lords of the Underworld #7) by Gena Showalter
3.75 🍁s ~ The Darkest Surrender (Lords of the Underworld #8) by Gena Showalter
5 🍁s ~ The Darkest Seduction (Lords of the Underworld #9) by Gena Showalter
2.75 🍁s ~ The Darkest Craving (Lords of the Underworld #10) by Gena Showalter
3 🍁s ~ The Darkest Touch (Lords of the Underworld #11) by Gena Showalter
4 🍁s ~ The Darkest Torment (Lords of the Underworld #12) by Gena Showalter
3.5 🍁s ~ The Darkest Promise (Lords of the Underworld #13) by Gena Showalter
DNF ~ The Darkest Warrior (Lords of the Underworld #14) by Gena Showalter
3.5 🍁s ~ The Darkest Captive (Lords of the Underworld #14.5) by Gena Showalter