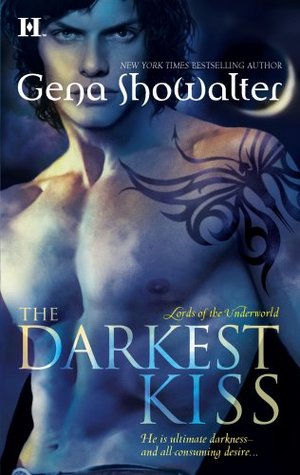 ∴ Goodreads | Amazon US | Barnes & Noble | Book Depository ∴
---
Synopsis:
She has tempted many men…but never found her equal. Until now.
Though she has lived for centuries, Anya, goddess of Anarchy, has never known pleasure. Until Lucien, the incarnation of death–a warrior eternally doomed to take souls to the hereafter. He draws her like no other. And Anya will risk anything to have him.
But when the merciless Lord of the Underworld is ordered by the gods to claim Anya herself, their uncontrollable attraction becomes an anguished pursuit. Now they must defeat the unconquerable forces that control them, before their thirst for one another demands a sacrifice of love beyond imagining…
---
🍁🍁🍁🍁
I'm William, but you can call me Sexy. Everyone does."
SPOILERS THROUGHOUT:
I have mixed feelings on this book. While I enjoyed certain aspects of it, some aspects I strongly disliked.
I loved Anya's character. I love strong and independent female characters because, let's face it, there aren't that many female characters who don't need a man and are confident in themselves. Anya was all of those things. She had been on her own for thousands of years and actually saw having a guy she cared about as a bad thing. She was incredibly strong and brave.
Lucien was great as well. I loved that he had scars on him so he wasn't the typical male character. It was nice to have a male character with actual physical flaws and to not be perfect on the outside. He had spent so much of his life alone and I really felt bad for him. I was glad that he found Anya who wasn't willing to back down just because he said so. My favorite part of the book might actually be the opening scene when Anya and Lucien meet. She shocks him because she is the first female to find him attractive and not be scared of him. He is also drawn to her because of that and he doesn't understand why. I also loved Anya and Lucien's banter. It was so heartwarming and adorable!
Now to the things I disliked. The whole overarching plot of the book. I don't know why but I didn't like the whole finding the artifacts part of the story. After reading the first book in this series, that plot just didn't feel right and I didn't enjoy it. The romance plot with Lucien and Anya was great, but the overarching plot was just flat and boring. The whole Cronus plot and him constantly threatening Anya was also boring. I think I had very high hopes and expectations going in to this book after the first was so great. Because of that, I think it ultimately led me to being disappointed.
While this wasn't the best installment yet, I still have a lot of hope for this series and I will be continuing. I have to admit that I am curious where Paris, Reyes, and Aeron's plot lines are going to go and I can't wait to read more of them.
---
Other Books in the Series:
4.25 🍁s ~ The Darkest Night (Lords of the Underworld #1) by Gena Showalter
5 🍁s ~ The Darkest Pleasure (Lords of the Underworld #3) by Gena Showalter
4 🍁s ~ The Darkest Whisper (Lords of the Underworld #4) by Gena Showalter
4 🍁s ~ The Darkest Angel (Lords of the Underworld #4.5) by Gena Showalter
5 🍁s ~ The Darkest Passion (Lords of the Underworld #5) by Gena Showalter
5 🍁s ~ The Darkest Lie (Lords of the Underworld #6) by Gena Showalter
5 🍁s ~ The Darkest Secret (Lords of the Underworld #7) by Gena Showalter
3.75 🍁s ~ The Darkest Surrender (Lords of the Underworld #8) by Gena Showalter
5 🍁s ~ The Darkest Seduction (Lords of the Underworld #9) by Gena Showalter
2.75 🍁s ~ The Darkest Craving (Lords of the Underworld #10) by Gena Showalter
3 🍁s ~ The Darkest Touch (Lords of the Underworld #11) by Gena Showalter
4 🍁s ~ The Darkest Torment (Lords of the Underworld #12) by Gena Showalter
3.5 🍁s ~ The Darkest Promise (Lords of the Underworld #13) by Gena Showalter
DNF ~ The Darkest Warrior (Lords of the Underworld #14) by Gena Showalter
3.5 🍁s ~ The Darkest Captive (Lords of the Underworld #14.5) by Gena Showalter