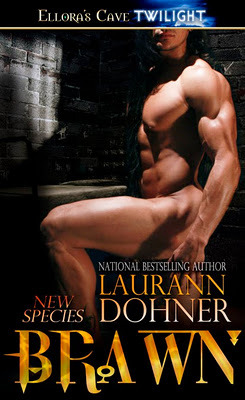 ∴ Brawn (New Species #5) by Laurann Dohner ∴
---
Synopsis:
One look at Brawn and Becca is wondering how he'd look without his clothes. Brawn is instantly attracted to Becca but has sworn never to touch a human female. They just aren't sturdy enough and he likes his sex a little rough. He is shocked to learn he'll be living with her when she refuses to leave her home. He is there to represent New Species and to learn about humans so maybe this will be a good educational experience. He just has to keep his hands off her.
His good intentions go astray when they are kidnapped and locked together inside a cage. Brawn finds himself reliving a nightmare when he is once again subjected to breeding experiments at the hands of New Species' enemies. They will use Becca to get what they want from him. Brawn will do everything he can to protect her but they only have each other to depend on while trying to survive.
---
4.25 🍁s
MINOR SPOILERS THROUGHOUT:
I liked this book. While it wasn't my favorite in the series, I did enjoy it. The plot was fast paced and I never felt like it dragged. The opening chapter was good. I have mentioned in the past that I love Laurann Dohner's opening chapters and this book was no different.
Brawn was great. He cared about his people and about Becca. He protected her when he barely knew her which showed that he was a good person. I honestly felt bad for him because he tried really hard and things just kept getting in the way. I enjoyed his bluntness and how he spoke his mind.
Becca was a little different than the leading female characters we have had in the past. She was previously married and was a widow. I felt like she was really guarded when it came to sharing her feelings with Brawn and it caused problems. After reading what happened with her first husband, I can see why. Overall, I liked her but she wasn't my favorite female character.
My biggest problem with this book was the communication between characters. I feel like a lot of the main conflicts in the book wouldn't have happened if Brawn and Becca would have just sat down and talked. I felt like they tip-toed around each other and it caused a lot of unnecessary drama. Every once in a while, an author misses the mark and I feel like that happened with this book. Even though this book wasn't my favorite, I will be continuing with the series.
---
Other Books in the Series:
5 🍁s ~ Fury (New Species #1) by Laurann Dohner
5 🍁s ~ Slade (New Species #2) by Laurann Dohner
5 🍁s ~ Valiant (New Species #3) by Laurann Dohner
5 🍁s ~ Justice (New Species #4) by Laurann Dohner
5 🍁s ~ Wrath (New Species #6) by Laurann Dohner
4.25 🍁s ~ Tiger (New Species #7) by Laurann Dohner
5 🍁s ~ Obsidian (New Species #8) by Laurann Dohner
5 🍁s ~ Shadow (New Species #9) by Laurann Dohner
5 🍁s ~ Moon (New Species #10) by Laurann Dohner
4.25 🍁s ~ True (New Species #11) by Laurann Dohner
5 🍁s ~ Darkness (New Species #12) by Laurann Dohner
5 🍁s ~ Smiley (New Species #13) by Laurann Dohner