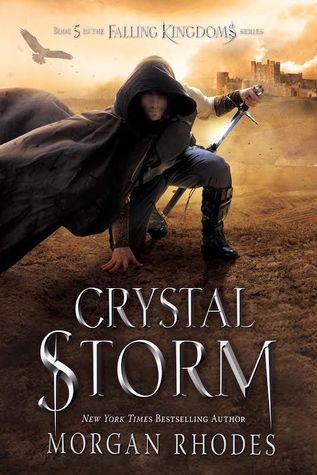 ∴ Crystal Storm (Falling Kingdoms #5) by Morgan Rhodes ∴
---
Synopsis:
The ruthless Empress Amara of Kraeshia has taken the Mytican throne, and now uncertainty looms over the three kingdoms. Since Lucia unleashed the fire Kindred, wreaking havoc throughout the land, Myticans have been looking for someone—anyone—they can trust. They believe in Amara, not knowing her grand promises are built on lies.
In Paelsia, Magnus and Cleo reluctantly follow King Gaius to the home of his exiled mother, Selia. Selia is a powerful witch and claims she can help unlock the magic of the Kindred—if the visitors agree to her terms. When Jonas arrives from Kraeshia, he is shocked to find that his rebel army now includes his sworn enemies. Along with Nic, Felix, and the mysteriously resurrected Ashur, the contentious group agrees to cast aside old grudges—for now—and united against their common enemy: Amara.
Meanwhile, bearing the child of a Watcher and feared by all, Princess Lucia travels across Mytica to find her family. But time is running out. The impending storm signals the dark prophecy Timotheus warned her about. Her fate is written, and it includes none other than the rebel Jonas. When their paths collied, Jonas and Lucia must decide between blindly following their destiny or fighting for their own free will.
The battle for power culminates at the Paelsian palace, where Amara resides. Rain pours. Blood spills. And soon all will discover that the darkest magic comes at an even darker price.
---
🍁🍁🍁🍁
"When on the very edge of death, matters such as fortune and legacy are meaningless in the face of knowing that someone who cares for you will hold your hand as you slip away."
I really liked this installment in the Falling Kingdoms series. It was fast paced and constantly had my attention. There was plenty of action, plot twists, character development, and drama.
You know when you are watching a movie and about 85% through, everything goes to shit? At this point, characters are captured or killed, the two main characters break up, or just something bad in general happens. This WHOLE book felt like that. Everything that happened in this book was exactly what I did not want to happen. A lot of horrible things happened to the characters I care about in this installment and, frankly, I am scared what will happen next. I don't think I have ever actually been this scared for my favorite characters before. Even though I hate it, that is what makes this series so unique and makes me want to keep reading it.
Overall, I did enjoy this book. There were things that happened in it that I am not happy about but I will keep reading the series. This book ended on a massive cliffhanger and I couldn't imagine not continuing on with Immortal Reign.
---
Other Books in the Series:
3.5 🍁s ~ Falling Kingdoms (Falling Kingdoms #1) by Morgan Rhodes
4 🍁s ~ Rebel Spring (Falling Kingdoms #2) by Morgan Rhodes
4.75 🍁 ~ Gathering Darkness (Falling Kingdoms #3) by Morgan Rhodes
5 🍁s ~ Frozen Tides (Falling Kingdoms #4) by Morgan Rhodes
5 🍁s ~ Immortal Reign (Falling Kingdoms #6) by Morgan Rhodes