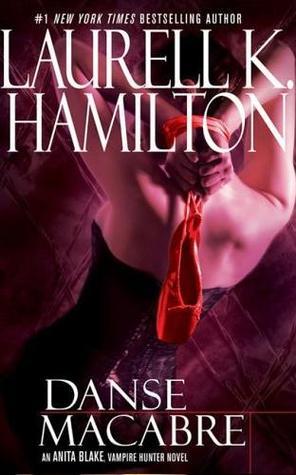 ∴ Danse Macabre (Anita Blake, Vampire Hunter #14) by Laurell K. Hamilton ∴
---
Synopsis:
These days, Anita Blake is less interested in vampire politics than in an ancient, ordinary dread she shares with women down the ages: she may be pregnant. And, if she is, whether the father is a vampire, a werewolf, or someone else entirely, he knows perfectly well that being a Federal Marshal known for raising the dead and being a vampire executioner, is no way to bring up a baby.
---
🍁🍁🍁🍁
"Still it might be nice, once in a while, not to have to choose between evils. Just once, couldn't I choose the lesser good?"
This installment was good. There was plenty of drama and character relationship building. There was nothing wrong with it per se. I just didn't connect with it as much as I connected with previous installments.
This series is good and I like it, but I feel like it is being dragged out. This was book 14 and as of now, there are 26 books in the series. I have no idea where Laurell K. Hamilton is going to go with this story for 12 more books. While I like these characters and the world it is in, you can only have so many books in a series before it gets old. Maybe if I had read this book when it came out and if I had had to wait a year in between it and the previous installment, I would have liked it more. It's possible that I would have liked the series better as a whole if that were the case.
Overall, I did enjoy this book, but I can't help but feel like this series is getting old. Maybe it is because I binge read the first fourteen. Maybe I should take a break and then come back to this series. Part of me wants to stop reading it altogether. I don't know. Only time will tell.
---
Other Books in the Series:
4 🍁s ~ Guilty Pleasures (Anita Blake, Vampire Hunter #1) by Laurell K. Hamilton
4 🍁s ~ The Laughing Corpse (Anita Blake, Vampire Hunter #2) by Laurell K. Hamilton
4 🍁s ~ Circus of the Damned (Anita Blake, Vampire Hunter #3) by Laurell K. Hamilton
4.5 🍁s ~ The Lunatic Cafe (Anita Blake, Vampire Hunter #4) by Laurell K. Hamilton
4.5 🍁s ~ Bloody Bones (Anita Blake, Vampire Hunter #5) by Laurell K. Hamilton
5 🍁s ~ The Killing Dance (Anita Blake, Vampire Hunter #6) by Laurell K. Hamilton
5 🍁s ~ Burnt Offerings (Anita Blake, Vampire Hunter #7) by Laurell K. Hamilton
4 🍁s ~ Blue Moon (Anita Blake, Vampire Hunter #8) by Laurell K. Hamilton
5 🍁s ~ Narcissus in Chains (Anita Blake, Vampire Hunter #10) by Laurell K. Hamilton
4.25 🍁s ~ Cerulean Sins (Anita Blake, Vampire Hunter #11) by Laurell K. Hamilton
4.25 🍁s ~ Incubus Dreams (Anita Blake, Vampire Hunter #12) by Laurell K. Hamilton
5 🍁s ~ Micah (Anita Blake, Vampire Hunter #13) by Laurell K. Hamilton
4.5 🍁s ~ The Harlequin (Anita Blake, Vampire Hunter #15) by Laurell K. Hamilton
3.5 🍁s ~ Blood Noir (Anita Blake, Vampire Hunter #16) by Laurell K. Hamilton