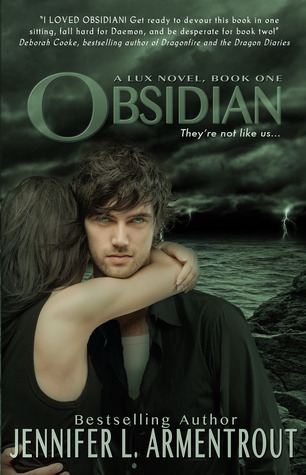 ∴ Obsidian (Lux #1) by Jennifer L. Armentrout ∴
---
Synopsis:
Starting over sucks.
When we moved to West Virginia right before my senior year, I'd pretty much resigned myself to thick accents, dodgy internet access, and a whole lot of boring… until I spotted my hot neighbor, with his looming height and eerie green eyes. Things were looking up.
And then he opened his mouth.
Daemon is infuriating. Arrogant. Stab-worthy. We do not get along. At all. But when a stranger attacks me and Daemon literally freezes time with a wave of his hand, well, something… unexpected happens.
The hot alien living next door marks me.
You heard me. Alien. Turns out Daemon and his sister have a galaxy of enemies wanting to steal their abilities, and Daemon's touch has me lit up like the Vegas Strip. The only way I'm getting out of this alive is by sticking close to Daemon until my alien mojo fades.
If I don't kill him first, that is.
---
4.25 🍁s
"I've always found that the most beautiful people, truly beautiful inside and out, are the ones who are quietly unaware of their effect." His eyes searched mine intently, and for a moment we stood there toe to toe. "The ones who throw their beauty around, waste what they have? Their beauty is only passing. It's just a shell hiding nothing but shadows and emptiness."
1st Read Rating: 5 Stars
2nd Read Rating: 4.25 Stars
The first time I read this book, I could not put it down and I read the whole series in four days. I am now rereading it for the release of the spin-off, The Darkest Star and I must say, I really enjoyed my reread of this book. I expected for there to be a lot of boring parts because I already knew what was going to happen, but there weren't. I always wanted to keep reading this book and thought of it while I was away.
The reason I took some stars away this reread was because of the lack of originality in the plot and the use of common tropes. When I first read this book, I was relatively new to the book world and I didn't realize that this series relied so heavily on common (and maybe even overused) tropes. The Luxen and Arum themselves are an original idea, but besides that, this whole book contains events/plot lines that I have seen many times before.
That is not to say that I still don't enjoy these tropes. I love this series and even if it isn't completely original, I am still going to read it. I highly enjoy the banter between Katy and Daemon and I will not stop loving the two of them together. I can't wait to continue on with the series and watch their relationship progress.
---
Other Books in the Series: