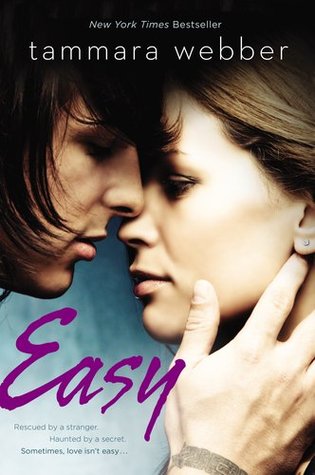 ∴ Easy (Contours of the Heart #1) by Tammara Webber ∴
---
Synopsis:
Rescued by a stranger.
Haunted by a secret.
Sometimes, love isn't easy…
He watched her, but never knew her. Until thanks to a chance encounter, he became her savior…
The attraction between them was undeniable. Yet the past he'd worked so hard to overcome, and the future she'd put so much faith in, threatened to tear them apart.
Only together could they fight the pain and guilt, face the truth – and find the unexpected power of love.
A groundbreaking novel in the New Adult genre, Easy faces one girl's struggle to regain the trust she's lost, find the inner strength to fight back against an attacker, and accept the peace she finds in the arms of a secretive boy.
---
3.5 🍁s
"Love is not the absence of logic
but logic examined and recalculated
heated and curved to fit
inside the contours of the heart"
MINOR SPOILERS THROUGHOUT:
I liked this book. It was well paced and had an enticing plot. I liked how there was a clear line of who was the "bad person" in the story and I loved to hate Buck. I liked Jacqueline as a main character. I felt like she was strong willed and I liked how dedicated she was to her schooling and grades. What I didn't like about her, was how she put off the fact that Buck tried to rape her and how she played it down. I felt like because she didn't report it, a lot of events that happened in the book occurred. Especially after Buck kept approaching her, I thought she would have at least reported it then. I couldn't comprehend why she didn't just tell someone in a place of authority. I liked Lucas as a character. I liked how he retained the Lucas and Landon personas and was able to keep Jacqueline from knowing he was the same person for so long. I don't really have much more to say. Overall, the book was good and I am considering reading the next one.