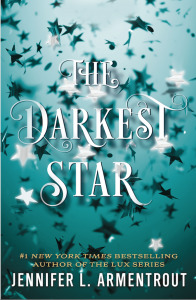 ∴ The Darkest Star (Origin #1) by Jennifer L. Armentrout ∴
---
Synopsis:
When seventeen-year-old Evie Dasher is caught up in a raid at a notorious club known as one of the few places where humans and the surviving Luxen can mingle freely, she meets Luc, an unnaturally beautiful guy she initially assumes is a Luxen…but he is in fact something much more powerful. Her growing attraction for Luc will lead her deeper and deeper into a world she'd only heard about, a world where everything she thought she knew will be turned on its head…
#1 New York Times, USA Today, and internationally bestselling author Jennifer L. Armentrout returns to the universe of the Lux in this brand new series, featuring beloved characters both new and old.
---
🍁🍁🍁🍁🍁
"There's nothing we can do other than live with the promise of tomorrow while knowing it may not come."
I loved this book. It met all of my expectations and then some. I had been waiting for this book for a really long time and I was not disappointed with it. I have read many Jennifer L. Armentrout books in the past and she just gets better and better.
When I first heard that Luc's story was going to be released, I was overjoyed. Luc played a major role in the original series and he always intrigued me. He never seemed like his age and everything that he did shocked me. At times, he was even my favorite character. I was so excited to find out what happened to him after Opposition ended and I went into this book with a lot of excitement. Luc was even better in this book than I remembered. His snark always had me laughing and the banter between him and Evie had me rolling on the floor.
I liked Evie. She was a good character to follow. Though, there were a few times when she would make decisions that I did not agree with. Sometimes, she would rush into things head first and wouldn't think about the consequences for her actions which was annoying to me. That didn't take away from my overall enjoyment though.
The "plot twist" towards the end was not shocking to me at all. In fact, since I had just reread parts of the original series, I guessed the "plot twist" on page 2. I wasn't 100% sure, but within a few chapters, it was clear that I was right. It became annoying after a while, because I just kept waiting for the "plot twist" to be revealed and it didn't for a long time. I was actually kind of shocked that it took as long as it did because there were tons of hints that were dropped throughout the book. I don't know if Jennifer L. Armentrout was just trying to lay some thorough ground work, or if she thought readers were just too blind to see it coming unless she put the truth right in front of their faces a thousand times. I sometimes got a little frustrated because of the constant hint dropping.
Overall, I highly enjoyed this book. There were some things that I got annoyed over, but it didn't take away from my overall enjoyment of the book. I had a lot of fun while reading this and I am dying to get my hands on the next book.
---
EXTRA:
I had the pleasure to meet Jennifer L. Armentrout when she went on tour for The Darkest Star and I got the book signed. Here are some pictures from the event: