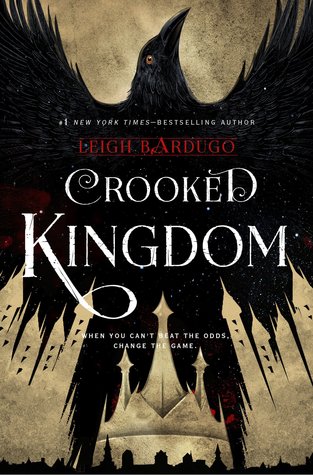 ∴ Crooked Kingdom (Six of Crows #2) by Leigh Bardugo ∴
---
Synopsis:
When you can't beat the odds, change the game.
Kaz Brekker and his crew have just pulled off a heist so daring even they didn't think they'd survive. But instead of divvying up a fat reward, they're right back to fighting for their lives. Double-crossed and badly weakened, the crew is low on resources, allies, and hope. As powerful forces from around the world descend on Ketterdam to root out the secrets of the dangerous drug known as jurda parem, old rivals and new enemies emerge to challenge Kaz's cunning and test the team's fragile loyalties. A war will be waged on the city's dark and twisting streets―a battle for revenge and redemption that will decide the fate of the Grisha world.
---
3.5 🍁s
"I would have come for you. And if I couldn't walk, I'd crawl to you, and no matter how broken we were, we'd fight our way out together-knives drawn, pistols blazing. Because that's what we do. We never stop fighting."
JUNE 22, 2018 UPDATE (3.5 Stars)- I have decided to change my rating on this book. Looking back, I don't even know where the girl who wrote the following review came from. I think I got caught up in the hype and now (months after reading this book), I can admit to myself that it doesn't deserve the rating I gave it.
Let me start off by saying that I do stand by my 5 star rating of Six of Crows. I enjoyed that book a lot and I loved it. This book however, I did not enjoy anywhere near as much and I do not feel like it deserves to be ranked the same as the first book.
I had major problems with this installment. First off, I felt like Inej and Kaz's story was completely blown off. We got a full scale love story between Jesper and Wylan, but we got almost nothing with Kaz and Inej. I am still not even sure if they will ever be together.
I know that Leigh Bardugo is planning on expanding the series, but at the time of this book's release, she had not said so. This book ended with NO closure for the Kaz/Inej relationship and I felt like Leigh Bardugo left it like that on purpose so she would have something to come back to if she wanted. I don't think that that is okay. If you are ending a series (and at the time she was), you don't leave whole plot lines open ended.
I honestly don't see myself coming back to this series. Never say never, but I just don't think that this book deserves the hype and I am not a die hard fan like everyone else appears to be. I still love the first book but this sequel was a disappointment. After having months to step back and reevaluate my opinion, I realize that this book has lost its luster for me. I will never be a giant Leigh Bardugo fan and I honestly don't know if I will read another one of her books.
With all of that said, I still love Kaz Brekker. 😉
AUGUST 31, 2017 REVIEW (5 Stars)- I loved this book. I listened to some of it on audiobook and I highly recommend it. It is amazing! I love how this book is plot driven and character driven at the same time. There aren't many books that I have come across where both are so heavily active.
The reason I loved this book the most was two words… Kaz Brekker. I absolutely loved Kaz in this book. He was absolutely brilliant (as usual) and I loved every moment of it. I love how morally gray he is and I like how he isn't afraid or held back by a moral compass to do the hard things. I loved Inej in this book as well. I enjoy her spunk and her loyalty. I loved Nina and her sass. Matthias and her were so cute and I really loved their relationship. Matthias-what can I say-I loved him as well. His loyalty and his moral compass were something I extremely admired. Jesper really grew on me in this book. I loved all of his interactions with Wylan (who grew on me as well) and I really shipped them. I like the balance that they create together.
There were many tears in this book and I'm going to miss my crew a lot. I hope to read more about them in the future. *Fingers crossed and silently begging Leigh Bardugo* This duology definitely redeemed Bardugo in my eyes and I would be interested in reading more from her. Overall, I am really grateful that I listened to the hype and decided to give Leigh Bardugo another chance. This duology is amazing and it deserves all of the stars and more.
---
Other Books in the Series: