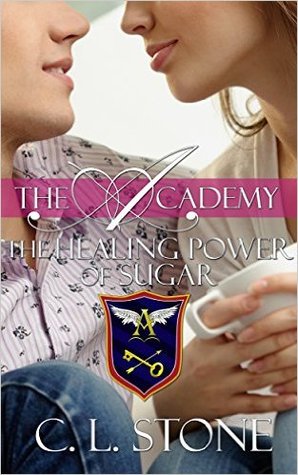 ∴ The Healing Power of Sugar (The Ghost Bird #9) by C.L. Stone ∴
---
Synopsis:
It's been a week since Sang has attended any classes at Ashley Waters, and since then, everything has changed. Her school schedule has been turned upside down, and now, thanks to her absences, the school counselor, Ms. Wright, has suspended her. The fear of school officials getting further involved and looking to contact her parents has Sang and the boys forced into their best behavior. It seems that the once perfect student, Sang Sorenson, is now one of the school's worst, and without explanation, because she needs to keep her lips tightly sealed. Academy secrets are becoming hazardous to keep.
The more that Kota, Victor, Silas, Nathan, Gabriel, Luke and North try to protect her, the more inevitable her downfall seems to be. They do their best to make sure Sang stays in school and when she returns to classes, try to help her get back on the straight and narrow—she can't afford to screw up anymore.
But then fate deals out a setback that cripples the whole team, and they need to make a move, it turns into a risky one. There's no way to predict the outcome. If they fail, the boys may lose the job they were sent to do, and worse, they may even lose Sang.
Everything gets more difficult when it's revealed there might be a traitor amidst the group. Desperate to fix things, Sang needs to stop the group from spilling secrets and find out the truth.
And why all fingers seem to be pointing to Luke.
The Academy, Magnanimous
---
🍁🍁🍁🍁🍁
MINOR SPOILERS THROUGHOUT:
I liked this installment in the series. While it wasn't my favorite, I still really enjoyed it. There were a lot of cute moments that made me fangirl really hard.
I liked getting to see more of Luke because he isn't around as much as I would like him to be and when he is, he is normally quiet. Before this book, I liked Luke a lot but after, I absolutely love him. He cares about Sang so much and he was only distant because he thought she wouldn't want to do the plan. He was so worried about her leaving them that he gave up his time with her to let her think about it. I thought that was so thoughtful and adorable! Luke is the one in the group that plays all the pranks but he really uses it as a defense because he cares so much! My favorite scene was probably when Luke and Sang got Sprinkles. That was so cute!
Mr. Blackbourne and Sang connected a little more a well which I was so happy for. I ship her with all of the boys but there is something about Mr. Blackbourne… I want his book! Just give it to me! Dr. Green was adorable, as well. I'm hoping for more of him in future books. Kota was a little more affectionate with Sang in this installment which I am all for. I am counting down the minutes until he finds out about the plan. I have a feeling that he isn't gonna be as okay with it as the other guys in the group are. We can only hope. I'm still really into this series and I can't wait to read the next installment.
Current Rankings:
1. Mr. Blackbourne
2. Dr. Green
3. North
4. Luke
5. Gabriel
6. Silas
7. Victor
8. Kota
9. Nathan
---
Other Books in the Series: